Social enterprise Bead and Proceed is helping businesses and individuals identify the sustainability goals that matter most to them and take action to help shape a healthier planet.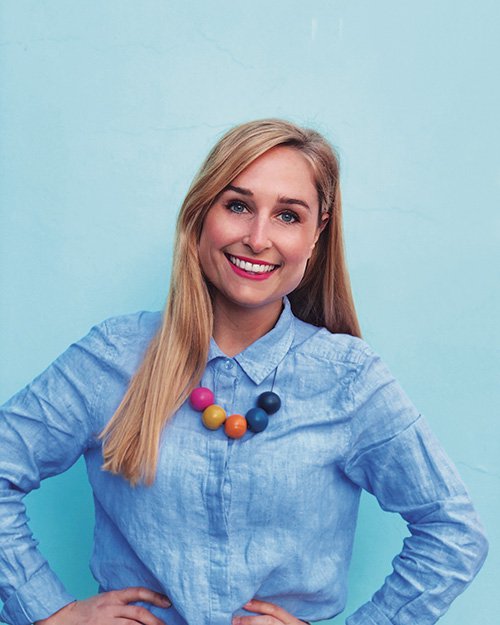 Bridget Williams's years as a lawyer were plagued by the feeling that there was something missing from her life. After a bad day in court, "a bit of an intervention" from her family and a love of crafts took Bridget on a journey from solicitor to sustainability leader.
The chance discovery of a set of sustainability goals released by the United Nations led to her founding Bead and Proceed, an innovative social enterprise that helps individuals and businesses identify and work towards their sustainability goals.
It's a big change from working as a solicitor for three years.
"I had a great job at a great firm, and I was that lawyer I thought I'd always wanted to be. But three years in, I was feeling like I wasn't adding any value to the legal profession or putting my creative strengths to good work. I'd come home every day incredibly sad," she says.
"One night after a particularly bad day in court, I wanted to put my energy into something positive. I made a necklace, and it was just this fantastic moment – I felt liberated, like I'd found what I had
been craving."
Nurturing the creative spark
Tapping into her creative side sparked something in Bridget. Not long after making that first necklace, Bridget came across a magazine article about the Sustainable Development Goals (SDGs), 17 global goals supported by the United Nations to be a "shared blueprint for peace and prosperity for people and the planet, now and into the future".
Devised in 2015, the New Zealand Government is one of the UN member states that has committed to implementing the SDGs. However, independent scientific analysis body Climate Tracker has deemed Aotearoa's climate policies and actions "highly insufficient", saying we will not meet our emissions targets if things continue the way they have been.
Bridget believes a lack of awareness of the SDGs could be contributing to this sluggish action on climate change and wanted to raise awareness and inspire people and organisations to act.
"Aotearoa had signed up for this framework, but nobody really knew about it. And one of the things that drew me into this framework was the beautiful colours – each goal connects to one of 17 issues and has its own colour associated with it."
Looking at the necklace she had recently made, she realised the beads could be colour-coded to correspond to these Sustainable Development Goals. This idea became Bead and Proceed, a social enterprise that aims to "foster a safe space for authentic discussion about the things you care about".
Bridget first ran Bead and Proceed as a side hustle while still practising law, but her family and partner encouraged her to hang up her robes. She quit her job, quoting Chinese philosopher Confucius in her letter of resignation: "We have two lives, and the second begins when we realise we only have one."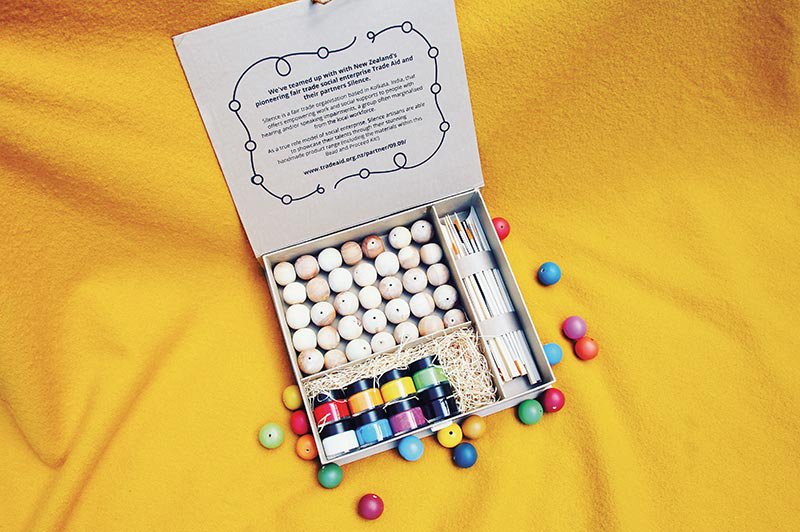 Beading for better
Bead and Proceed participants choose the five Sustainable Development Goals that are most important to them and paint five beads in the colours that correspond to these goals, which they then make into a necklace or keychain. The necklaces and keychains then become a reminder of the sustainability goals that each participant is most passionate about and spark conversations around what we can do to help Aotearoa achieve these goals.
Naturally, Bridget wanted the kits themselves to be sustainable and began working with Silence, a fair trade organisation in India that gives quality employment to adults with disabilities. Silence staff make the beads from recycled wooden pallets, and the boxes the kits come from are recycled paper. The paint is produced by Natural Paint Co, a Christchurch-based business who save a square metre of Amazon rainforest for every square metre painted with their products.
Kits can be ordered online, and organisations can also book workshops facilitated by Bridget where she helps identify strengths and opportunities in a business's sustainability practices. Bead and Proceed also operates a "one for one" model where, for each kit purchased, another is donated either to a low-decile school or a community organisation.
Innovation and action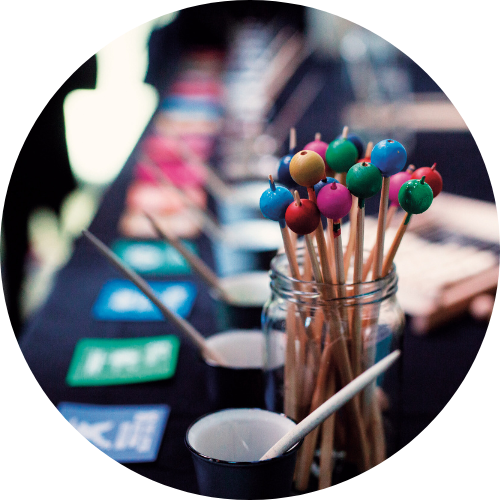 "It's secretly not about the beads," explains Bridget. The hands-on nature of Bead and Proceed workshops helps spark conversations about big issues, and puts participants in a "flow state" where they're totally immersed in an activity.
"Back at the end of World War I, soldiers who came back suffering from shell shock – which we now know as PTSD – were prescribed drawing exercises. We know art puts you in a state of flow and distracts you, puts you in a safe space and helps you open up and have more raw and authentic discussions."
Creating a tangible object also "anchors the learning", says Bridget. "It's a symbolic reminder of the things you really care about, and because it's so visual, it's a conversation starter to help more people learn about the SDG framework."
The activity is also non-hierarchical, and Bridget often sees colleagues from different levels of businesses connecting over shared goals and discussing potential solutions.
"Creativity sparks creativity and makes you ask what's next. We're going to need out-of-the-box solutions and innovations to address these massive issues."
"You're in a creative space, so you come up with creative ways to action these goals."
Pointing to her own necklace, Bridget explains her five top goals from the framework. There's magenta for reduced inequalities, dark mustard for responsible consumption and production, golden yellow for sustainable cities and communities, royal blue for peace, justice and strong institutions and navy blue, which represents partnership for the SDGs.
It's the final one that Bridget is most focused on, saying "without partnership, we can't achieve the goals. We have to work in collaboration."
Shifting towards sustainability
Bridget is excited to see the impact Bead and Proceed is having on businesses, with many choosing to integrate their most popular SDGs into their day-to-day business operations, or creating incentives for staff to champion, their own top SDGs. These shifts don't need to be major, says Bridget, describing one organisation where a lot of staff prioritised SDG 5: gender equality.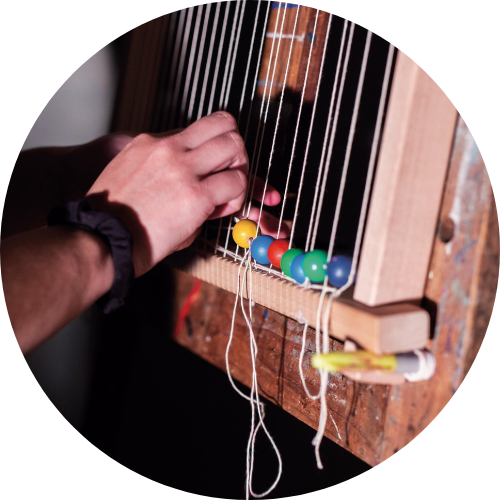 "They noticed all their breakout rooms were named after male scientists, which isn't a good reflection of gender equality. They wanted to recognise that their staff cared about this so changed the names to reflect female scientists."
"Every business is on a journey. It starts with awareness and then making those small, sustainable shifts, then challenging yourself to keep working towards that goal."
Bridget is optimistic about what Aotearoa can achieve with a shared commitment to meeting its emissions targets, saying the universal appeal of creative activity can help businesses and individuals get on board.
"Creativity speaks an international, intergenerational language."
Know someone who might enjoy this?