Long-time volunteer and medical student Olivia Gray has been awarded a MAS Here for Good scholarship for her voluntary contributions to fields including sport, education and medicine.
Volunteering has been a big part of Olivia Gray's life since she was a teenager so much so that it led her to her future career in medicine.
The University of Auckland fourth-year medical student is the recipient of this year's MAS Here for Good scholarship in recognition of her extensive volunteer work across sport, education and medicine. The 24-year-old first got involved in volunteering as part of her Duke of Edinburgh's Award, where she taught rowing to adults with special needs.
"I rowed throughout high school, and it felt like I was giving something back to the rowing community that I'd got so much support out of."
A volunteer gap year
After finishing high school, Olivia took a gap year. She spent six months working at a children's summer camp in France where she saved money to allow her to volunteer as a teacher aide in a primary school on one of Fiji's remote islands.
"Being able to live with a local family and really embrace the community was awesome. That was the longest continuous volunteering I've done. It was great to be able to follow the process from identifying a problem, implementing changes and then seeing the positive outcomes for the children. It made me really proud to see them using the school library again."
It was here that Olivia found her interest in the health and nutrition of children, shaping her future career path.
"One of the things I noticed was that some of the children didn't have great access to nutrition, and you could see that in the classroom. They were trying as hard but weren't able to focus as well as the others. That's one of the things that led me to studying a Bachelor of Science in nutrition.
"I can link a lot of the turning points in my life to a volunteering experience," she says.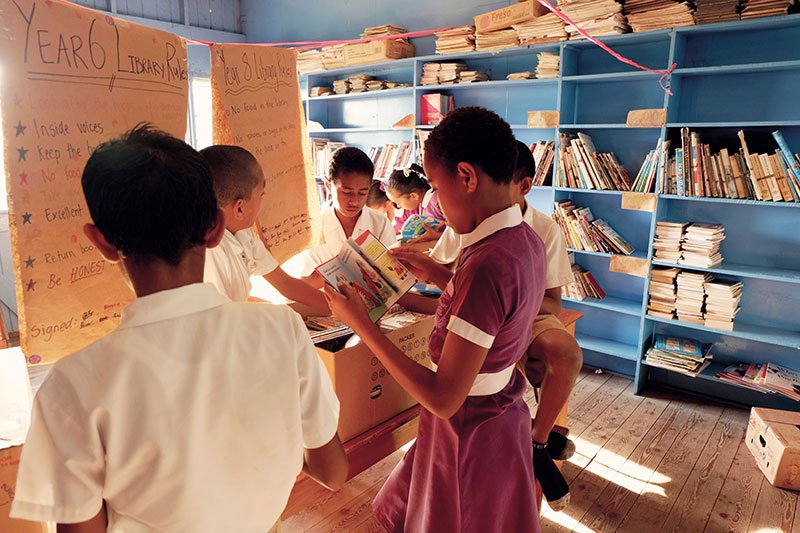 Above / Olivia re-established the library at the school she volunteered at in Fiji
Olivia re-established the library at the school she volunteered at in Fiji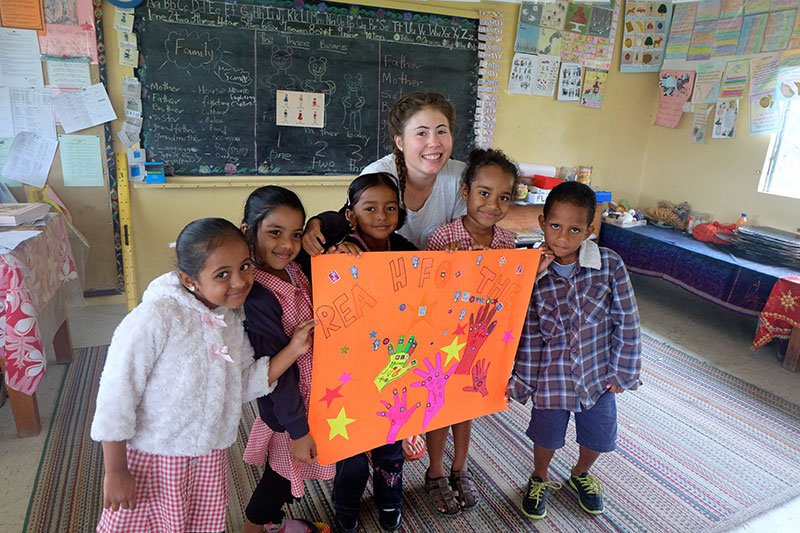 Olivia volunteering in Fiji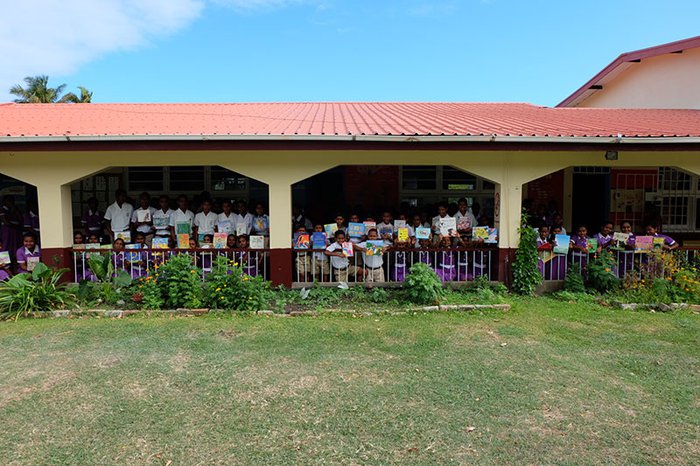 Top / Olivia volunteering in Fiji
Bottom / The primary school Olivia volunteered at in Fiji
The primary school Olivia volunteered at in Fiji
Sharing her privilege
While studying nutrition at the University of Otago, Olivia volunteered with the Red Cross homework club for refugee high school students, helping them practise English and with their homework.
"Through that experience, I learned how much I was able to share just by giving time. I have had a very privileged upbringing, and I think the least I can do is pay it forward. The culmination of these volunteering experiences made me turn my mind to studying medicine."
After completing her degree in nutrition, Olivia went on to study medicine and is now in her fourth year at the University of Auckland.
"While based in Auckland, I also volunteer with Radio Lollipop at Starship Hospital, which involves dressing up and hanging out with kids in the wards, doing crafts, playing games and having fun. This is also one of the only times where there's a focus on them as a person rather than on their illness.
"Often kids are feeling a bit flat or unhappy – kind of like how we all feel in level 4 lockdown – and there's a real buzz that I get from going into their rooms and turning their mood around. We often manage to get the whole family involved, bringing up the energy and leaving everyone with a smile on their face," says Olivia.
Satisfaction and community
Olivia always finds time to volunteer because of how much she enjoys it and how much it helps her professional development.
"This year, I've been volunteering with a real grassroots initiative through the ophthalmology department at Waikato Hospital, offering free ophthalmology screening in Māori communities. Research shows these communities experience real barriers to getting equitable healthcare, so it's been great to be able to go into communities and chat to people, learn about them and help better connect them with health services," she says.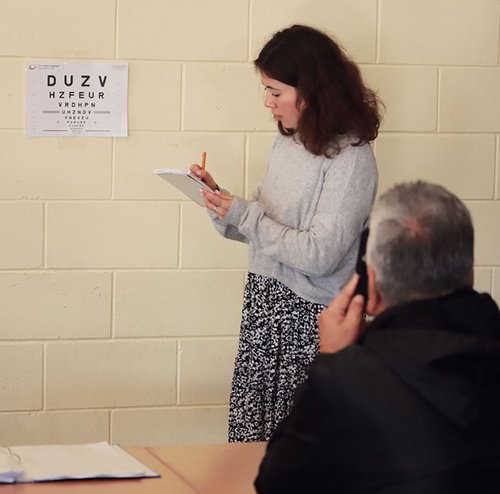 "We have been providing free vision screening at kaumātua COVID-19 vaccination clinics while kaumātua wait at the marae following their vaccination. It's been a privilege to be invited into these communities and have the opportunity to chat to people while also promoting eye health," she says.
"I get a huge sense of satisfaction and community from volunteering, plus great friendships. As a medical student, I move around a lot, so I've found that volunteering is a great way for me to develop a stronger sense of belonging in a new community. There's always a mix of people involved so I get a real taste of the depth and breadth of the community very quickly."
Connecting over more than symptoms
Olivia has no doubt that her volunteering experiences have made her a better medical student.
"I think my experiences have allowed me to better connect to the patients that I interact with, even if I'm not familiar with their background or where they've come from," she says.
"We're in such a privileged position as medical professionals, and when patients come to see us, they're often in a really vulnerable position and sharing a lot of very personal information. It can feel like you're taking a lot from someone. But having these experiences means I can connect about more than just symptoms. Often just sharing a story or an experience can get patients smiling or talking more, and that all builds trust."
Having her volunteering efforts recognised with the MAS Here for Good scholarship was a proud moment for Olivia.
"I was quite surprised but very stoked to get it. It was a big warm and fuzzy moment that made me feel so proud of all the volunteering I've done over the past 10 years. It's not something I would ever give up, but this award has made me even more passionate to give back to communities as a way of recognising the scholarship." 
Know someone who might enjoy this?