New Zealand Sign Language (NZSL) is one of Aotearoa's official languages yet only about 0.5% of the population are able to use it to hold a conversation. While there have been significant improvements over the past 30 years in creating Deaf-inclusive environments, there is still more work to be done.
Growing up with three Deaf sisters has given Kevin O'Neill a detailed knowledge of the issues faced by New Zealand's Deaf community.
"I've grown up within the Deaf culture and learnt NZSL, so I understand the isolation that comes with deafness. Growing up, I've always interpreted and explained things for my sisters," says Kevin, a MAS Member and Board Member of Deaf Aotearoa.
Kevin says these issues are particularly pressing when it comes to accessing healthcare. A lack of healthcare professionals able to use NZSL and limited access to interpreters can leave Deaf people unable to understand what's going on, which is not only frustrating but raises legal questions too.
The need for informed consent
One of Kevin's sisters suffered a stroke during last year's lockdown, which highlighted the need for informed consent from the Deaf community.
"The biggest issue that she faced was the ability to provide informed consent. She was asked all these questions, and it's easy for things to be miscommunicated when two people are speaking different languages.
"The issue here was whether she actually gave informed consent. If I wasn't there interpreting on her behalf, the communication wouldn't have been on a level where the medical practitioners were able to meet her needs," he says.
While there is an interpreting service available online on weekdays, a lot of medical emergencies occur after hours or weekends when there is often no support available for people who are hearing impaired.
Oliver Ferguson, President of the Executive Board at Deaf Aotearoa is Deaf himself, has two Deaf children and has also had difficulties accessing healthcare.
"In health situations, stress levels can be high, and as the Deaf person it feels like I am supposed to educate health professionals in the moment about how to communicate with me and my children.
"This is an added stress that hearing parents and patients do not have to contend with. So if I could say anything to health professionals, it would be to ask them to please become familiar with the resources that are currently available – it will make our experience so much better."
Inclusivity within the health sector
Despite these issues, Kevin gives credit to those working in the medical field and acknowledges that many are making a concerted effort to be inclusive of people who are Deaf.
"When someone has an interpreter, most of the medical staff I've come across are really keen to understand sign language. They want to support their patient and achieve good outcomes."
Deaf Aotearoa has a booklet for medical practitioners that includes signs specific to medical situations, and Kevin encourages those interested in creating a welcoming environment for Deaf people to learn basic signs.
"If more people were open to learning some basic NZSL, it would really make such a difference to the Deaf community."

Kevin O'Neill
"Even something as simple as learning how to introduce yourself will help them feel at ease, especially in high-stress situations," he says.
Fighting for Deaf education
Access to education is another area where the Deaf community faces challenges.
Oliver and Bridget Ferguson, who have two Deaf children and one hearing child, have had to relocate multiple times to get suitable education services as they struggled with having their children correctly diagnosed and supported in the classroom.
Bridget, who is General Manager at Deaf Aotearoa, says they had difficulties getting a proper diagnosis of the hearing difficulties her eldest child was experiencing.
"She was born in 2001 before the newborn hearing screening programme started nationwide, so I battled with medical professionals to get her tested and to receive confirmation that she was Deaf.
"We had a constant fight to get a proper education for our daughter throughout her schooling. We had to move from Wellington to Christchurch, then Christchurch to Sydney to access curriculum for her in sign language."
The Fergusons' youngest child is also Deaf and, despite being born 15 years after their first child, not much progress had been made during that period.
"Unfortunately nothing had changed regarding access to education so our fight continued.
"In 2019, we had our oldest Deaf child completing year 13 and our youngest beginning preschool. For both of them, we had to battle with the system to enable them to have their human rights respected," Bridget says.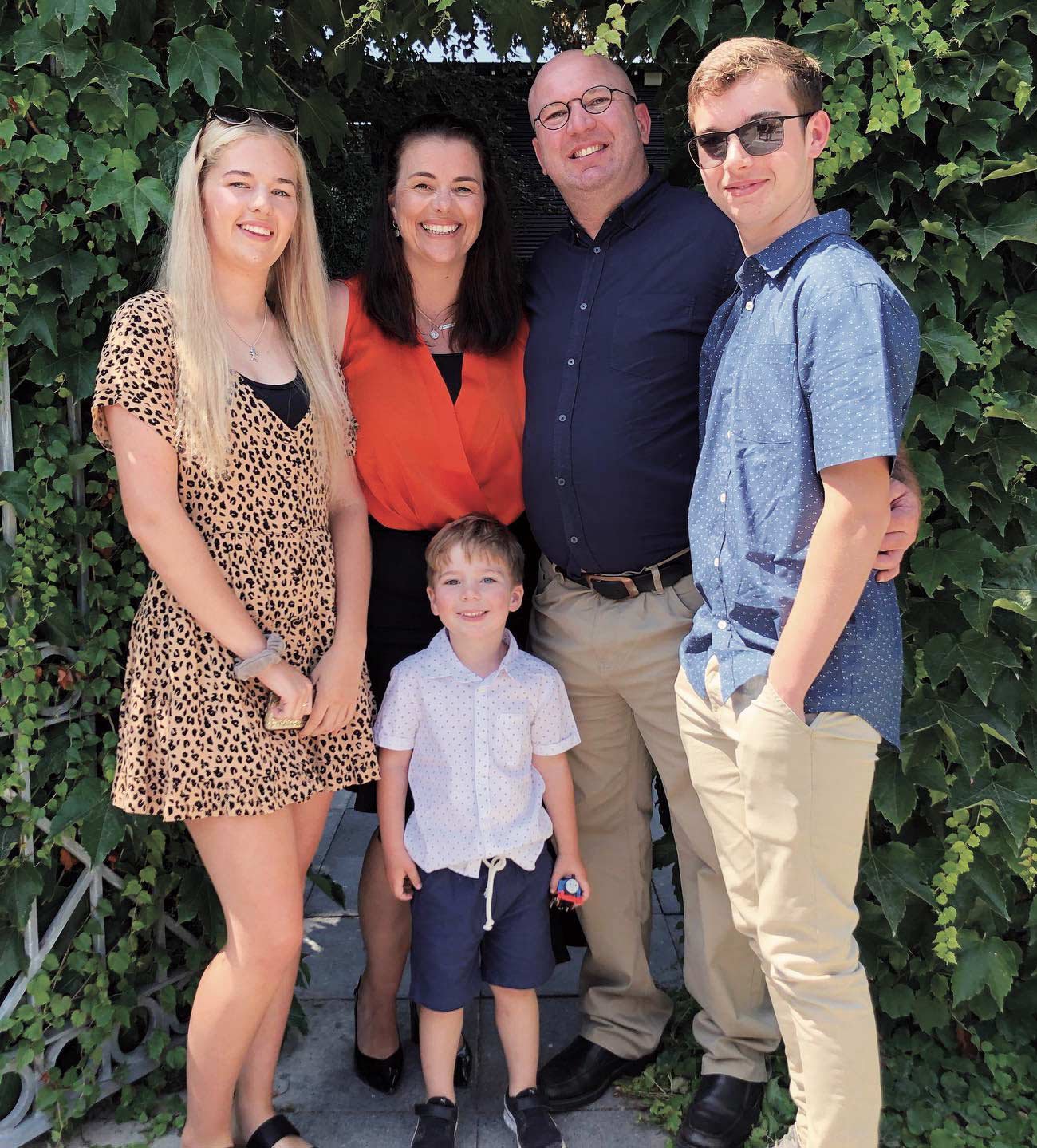 Zoe, Bridget, Oliver, Elijah and Carter Ferguson
Mainstreaming Deaf children is isolating
Oliver says his school experience was much more enjoyable both educationally and socially than what's on offer for his kids now.
"Things were a lot simpler when I was growing up. There was a strong Deaf school in Christchurch – the Van Asch Deaf Education Centre. Even though the teachers were not so fluent in NZSL, I was able to chat with others and play in NZSL. I had a strong friend group and wider social network.
"Deaf children today, like mine, do not have access to that any more. Because of the push for mainstreaming, Deaf kids are now isolated in their local schools and expected to learn with intermittent access to a teacher aide or teacher of the Deaf," Oliver says.
One of the biggest hurdles Oliver had to overcome throughout his education was people's low expectations of him and what he was capable of achieving.
"In high school, I was interested in science and engineering. But I was told by a teacher that I would not be able to work in that field because I was Deaf.
"I proved her wrong, going on to pursue tertiary study and working in engineering. This became the foundation of skills that I used to get where I am now, working in visual FX at Weta Digital."
Celebrating New Zealand Sign Language
Oliver hopes to see NZSL become as well resourced and respected in New Zealand as te reo Māori.
"There are times when the use of NZSL still feels tokenistic. I would like to see a New Zealand where Deaf children are able to be educated with their peers in NZSL.
"Our community will be strong if our language is strong."
Know someone who might enjoy this?