Self-confidence can be the secret sauce to unlocking life's potential, and these pioneering programmes are helping everyone from new mums to shy teens to put their best foot forward.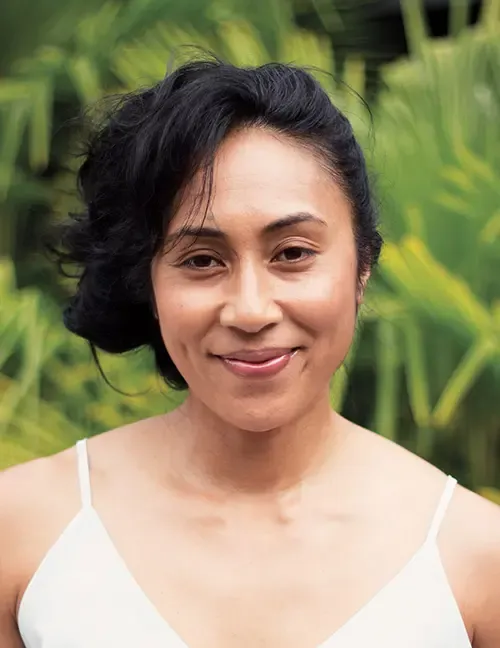 For Auckland-based personal stylist Nora Swann (Pictured, photo: Leadership NZ – Mana Moana), fashion means far more than a fancy outfit. Throughout her career in the industry, she's seen first-hand how clothing can be a much-needed catalyst for boosting self-esteem, how a styling session can break down barriers to job opportunities and how a makeover can lead to a life transformation.
And as founder of Dressed in Confidence, an organisation providing wellness programmes with a creative focus, she's proving fashion can be an empowering force for good.
"In my job, there's definitely a lot of warm fuzzies," she says. "Our programmes are generally about three days, and often when people come in on day one, we notice how they can be cliquey and in their little groups. Some of them keep their hoods on, there's limited eye contact and it's closed answers. Then by day three, they're walking the runway.
"At our employment readiness programme, we have clothes provided through our walk-in wardrobe, we team up with a local beauty school so our students can have their hair and make-up done, we've worked with them to build their confidence, and for graduation, they come down the runway for a big reveal. Families are often like, 'Oh my gosh, is that my child?!' I just love seeing that."
Alongside the Mana DIC programme for workplace readiness, Dressed in Confidence has a team of youth facilitators running events in schools. There are a range of community happenings, including the popular Mama and Me programme to help young mums build body positivity, and they've recently piloted an initiative with the Ministry for Pacific Peoples.
Classes are interactive and include everything from nutrition seminars and professional photoshoots to excursions to retail stores and thrift shops for tips on the best buys. And with a steady stream of demand and an ever-broadening range of clients, you'd be wrong if you're thinking it's only women who sign up.
"We work with a lot of guys as well, and I often remember this one man who came to our three-day programme. He didn't really connect with it at first, but we respected his space. Then it came to the makeover segment, and I saw how much he enjoyed it. Reflecting back on it, I could tell that, somewhere along his journey, he had lost his dignity, and giving him those clothes really gave him a boost.
"For us, it's about planting a seed, whatever way we can, to help someone feel better. People often need someone else to believe in them and give them that little nudge that helps them to the next stage. That's the most important thing, and it's so beautiful to witness."

Breaking down barriers
Empowering Māori and Pacific communities is at the heart of the Dressed in Confidence mission, and for Nora, who is New Zealand born with Samoan-Niuean heritage, her work is a way to give back to the groups who nurtured and supported her. It's also about ensuring the next generation has the right tools for success.
"I've got two daughters, and I noticed that they were really shy, just like I was when I was growing up. I was a late bloomer, and I didn't want my daughters to go through what I did and only discover their superpowers later in life. I knew there would be heaps of other girls – particularly Pacific girls – just like this, so that prompted me to start the programmes."
It was winning a magazine competition for a stylist mentoring session that sparked her own interest in fashion and kicked off a career path that includes working at major runway events, starting the first Pacific-owned modelling agency and being a trusted personal stylist to a list of wealthy clients. Along the way, she noticed how the often intimidating world of fashion wasn't always accessible to many in her own community.
"At Dressed in Confidence, we're teaching wellbeing through the medium of fashion, and we're focused on getting this sort of information to people who don't normally have access to it. Since we started in 2016, it's been like smashing through glass ceilings to get to a lot of these spaces," she says.
"It's a niche service that we offer, and a lot of these programmes have been built around my own experiences of being a minority in the mainstream fashion industry. I want to build that confidence in others so they can come into these mainstream spaces as a proud Pasifika or Māori person or as someone that comes from South Auckland."
And while her roots are in Auckland's south, Nora and the team are gradually expanding throughout Aotearoa and beyond. They recently held events in Wellington, and pre-COVID, they ran programmes throughout the Pacific and in the Solomon Islands. Further afield, Nora's featured in US business magazine Forbes for her mentoring programmes and extensive work showcasing Pacific fashion talent.
Helming a growing empire makes for a demanding workload, but she knows she's on the right track. "We get lovely feedback from people who have done the programmes, and it's such a privilege to do the work we do," she says. "This really is my calling, and I know we're making an impact. That's what keeps me going."
Know someone who might enjoy this?