Gardens have long been enjoyed as places to relax, but new research has confirmed that gardening can be a powerful force for our mental wellbeing.
Evidence is building that gardening is great for mental health. While weeding and mulching are good physical exercise, the mental health implications of getting our hands in the soil have also now been confirmed by science.
Studies have shown a wide range of benefits associated with gardening, including reduced levels of depression, anger, stress and anxiety, increased life satisfaction and an improved sense of community.
Now one Kiwi researcher has proved that some gardens are better for our health than others.
MAS Member Dr Gayle Souter-Brown says many of us intuitively know that being outside makes us feel better, but her doctoral research on how gardens impact our wellbeing has serious implications for public health.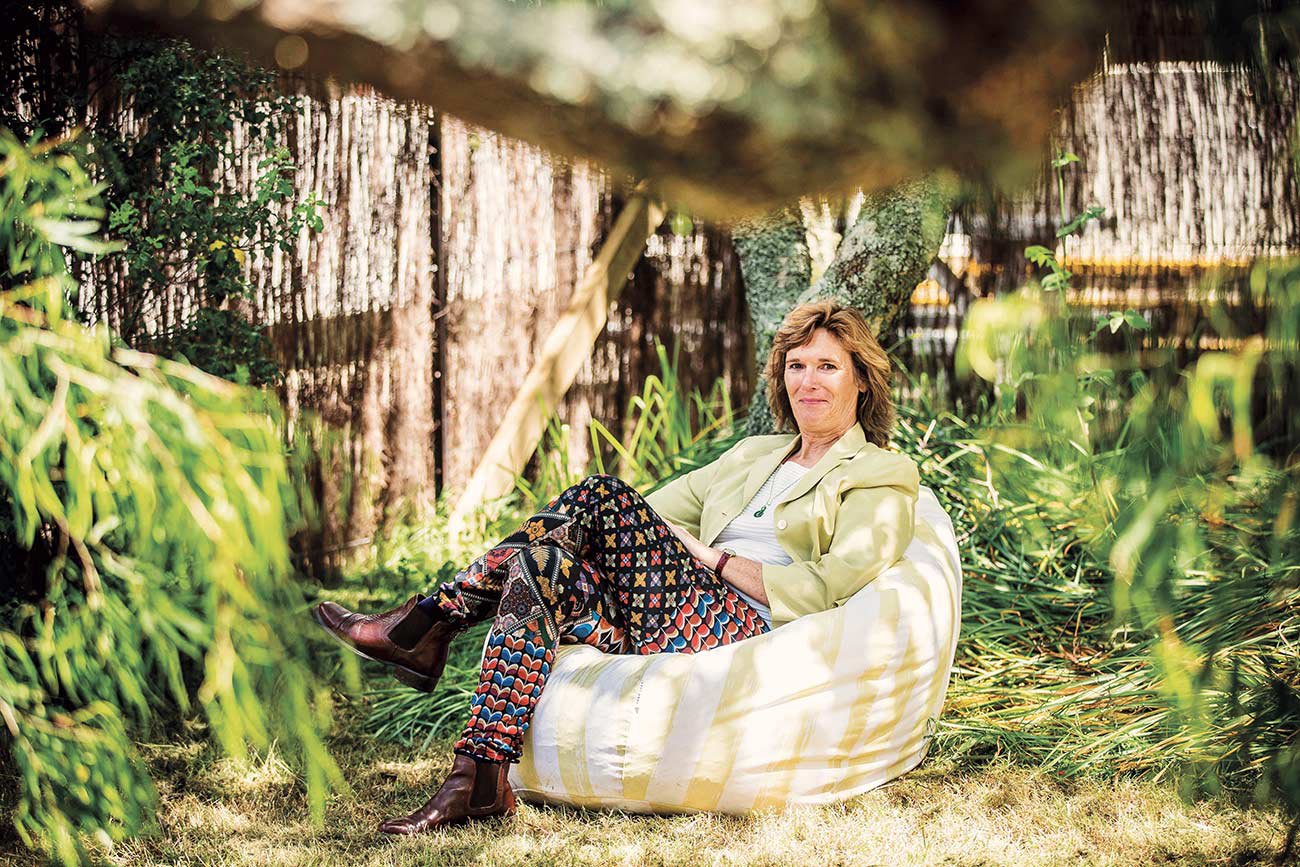 Dr Gayle Souter-Brown, Credit: Stuff Limited
Gayle's studies and career have spanned environmental science, landscape architecture, ecology and public health. She is the founder of Greenstone Design, a landscape design consultancy working from Aotearoa and the UK to create evidence-based therapeutic gardens for people who are experiencing chronic stress or mental illness, who are on the autism spectrum or who suffer from dementia.
"As a scientist, I'm deeply interested in community wellbeing and how we can provide an ambulance at the top of the cliff to assist the healthcare system. Creating these self-care tools that people can access equitably and in a sustainable fashion is part of this."
Putting trees to the test
Gayle's recently completed PhD at Auckland University of Technology looked at whether it was possible to create a public health tool using ecologically sensitive landscape architecture.
Gayle created a sensory garden and compared it with a planted plaza space of the same size at the university to study how people's wellbeing was affected by different types of environment in a randomised controlled trial.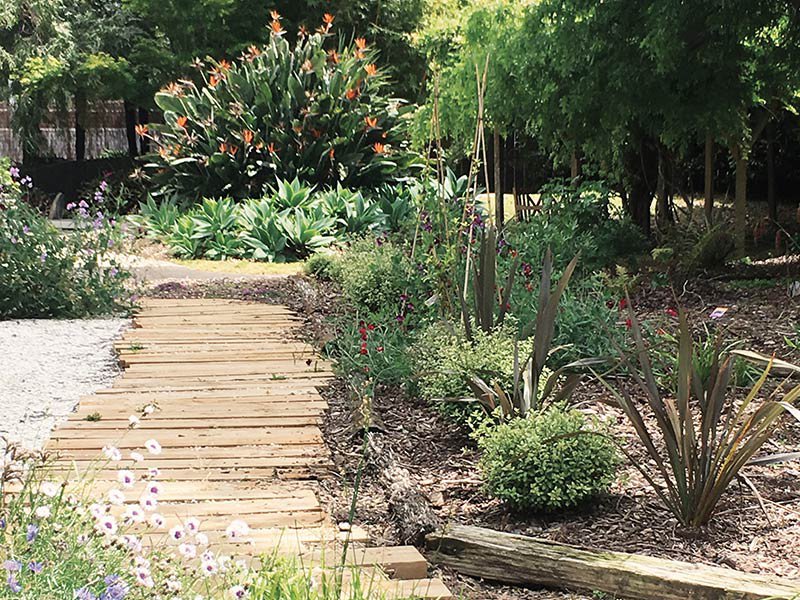 Gayle created a sensory garden and studied what happened when participants spent half an hour in the space once a week for four weeks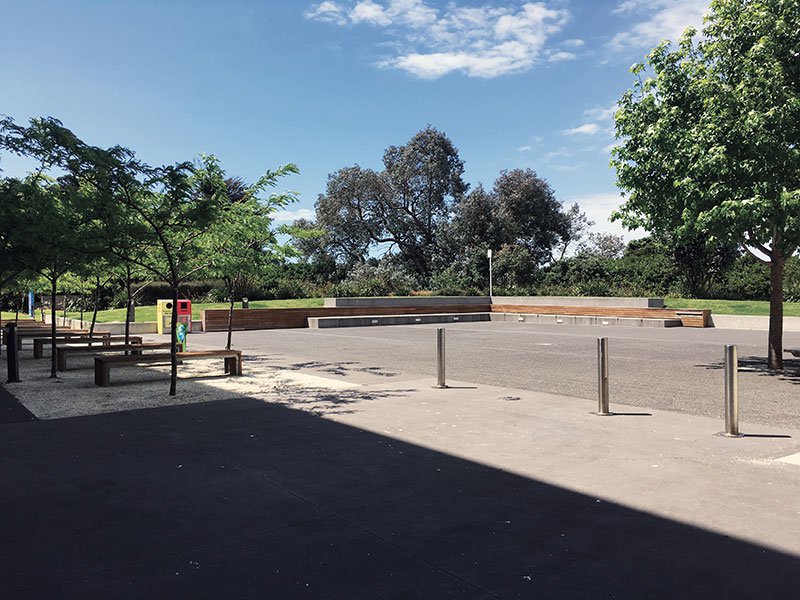 Another group spent the same amount of time each week in an orderly planted plaza
The sensory garden was designed to be full of life. This nature-rich 900 sqm space became full of birdlife, colour and fragrance and offered participants many ways to interact with it. People who spent time there during the study could do anything they wanted except use electronic devices. Participants climbed trees, ate salad leaves, read, ate their lunches and even napped in the space.
This was contrasted with an architecturally designed plaza space, full of "crisp lines, sharp edges, trees in straight rows and fixed seating".
The study saw 165 participants aged between 18 and 65 being prescribed 30 minutes in either space once a week for four weeks. The results were striking.
"In the sensory garden, we saw remarkable results. And the data is unequivocal: the sensory garden significantly improved outcomes across age, sex and cultural background. We had 165 people in this study, and not a single one showed any negative effect."
"But we found that spending time in the plaza caused measurable harm. It negatively impacted every wellbeing measure. To be able to see all these graphs going the wrong way really does warrant further research," says Gayle.
After experiencing the sensory garden, participants recorded an almost 20% reduction on average in salivary cortisol, which measures stress levels. They also experienced an increase in productivity and improvements in perceived wellbeing.
This quantitative data was matched by qualitative observations.
"Participants told us they'd seen their memory, problem solving and concentration improve. One person sorted out a problem with their boss and another decided to ditch their partner, which they'd been thinking about doing for a long time. They had the clarity and confidence to know what to do next. There were all sorts of stories that came out about social connection and cognition and making sense of the world," Gayle says.
These findings, which have been published in the Journal of Landscape and Urban Planning, show that health creation by design is doable, achievable and affordable.
"Health-promoting design costs no more than standard design, which in some cases does measurable harm. We've got a major mental health crisis, a climate crisis, and we're seeing physical health effects from poor air quality. It's grim. We've got to start doing things differently, applying this science and getting on with it."
Gayle says there's robust data that says the beneficial effects of being in gardens are further increased by the act of gardening itself and that even the calories burned by gardening are beneficial to physical health.
"Being in gardens reduces stress with no stigma and no barriers to access in terms of cost or accessibility. And the next thing is that, once chronic stress is reduced, people spontaneously seek out more physical activity, eat more mindfully and choose healthier food."
Community roots
A Christchurch-based organisation that grew from the city's post-quake landscape has seen how gardening can strengthen communities in tough times.
Khye Hitchcock is the programme director of The Green Lab, which began life as Greening the Rubble. The group emerged in the chaos of post-earthquake Ōtautahi in 2010 and originally focused on bringing temporary greenery into the rubble sites that littered the city.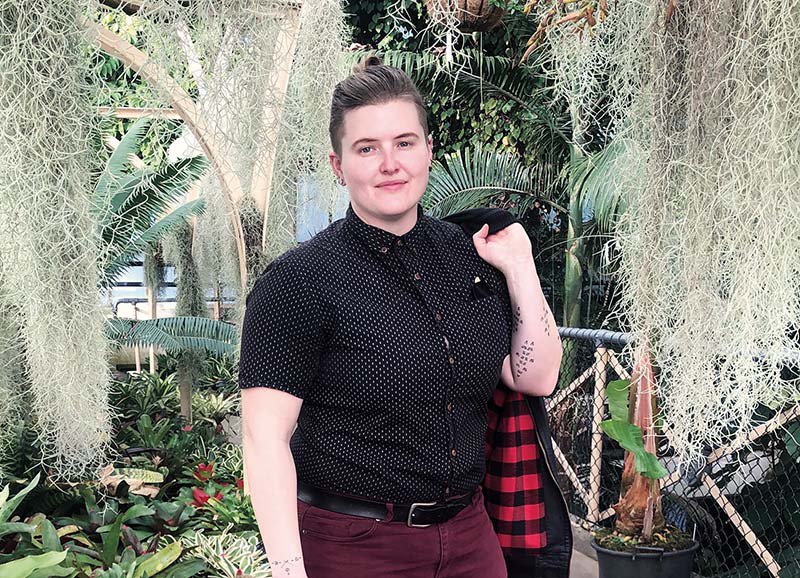 Khye Hitchcock is the programme director of The Green Lab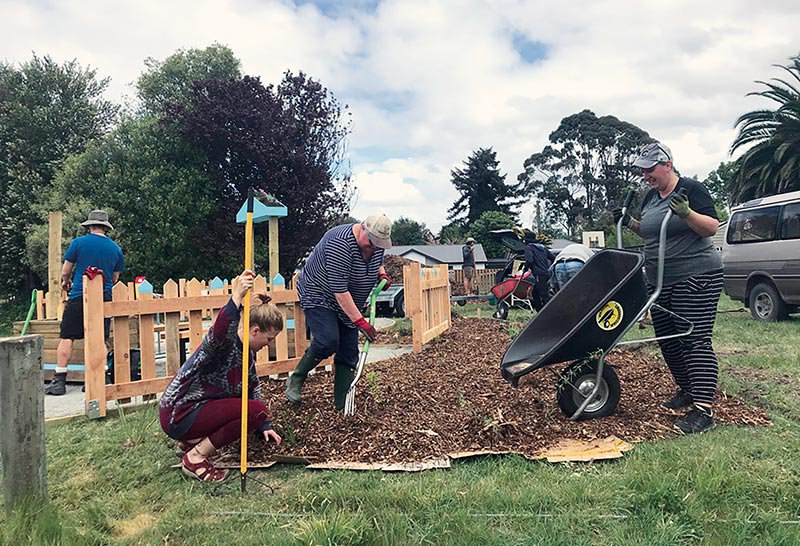 The Green Lab works with communities to develop green spaces, which are often planted by volunteers
Khye explains that the organisation was founded by a group of very passionate and ecologically minded individuals.
"The early days involved guerrilla activity like sending seed bombs into the cordoned off CBD, but they quickly got backing from Christchurch City Council and started creating pop-up spaces in vacant lots."
Greening The Rubble became The Green Lab in 2019, with a focus on testing new ideas and developing collaborative projects across the city in partnership with local communities and often with support from volunteers.
"We have such a great time with volunteers. Those moments when you have someone in their 60s learning how to use an angle grinder for the first time are great. The feedback is incredible: people say that working on the gardens helps them find their voice, find their community, that it means a lot to be involved in something that their kids and grandkids can enjoy in the future."
In 2017, The Green Lab collaborated with Odyssey House, an addiction recovery centre, on a project that highlights the wellbeing effects of gardening. Residents helped plan and build a public garden, then regularly maintained it, developing their horticultural skills and giving them a sense of satisfaction.
Khye has no doubt that gardening has therapeutic benefits. "The benefits of gardening are well researched, and gardening is even being prescribed in some places."
"As much as the physical act of gardening is beneficial, for us, it's part of being a collective that's working towards a common goal that gives people a real sense of belonging. I think green spaces are a conduit to all sorts of other things – they're a vehicle we use to practise our wellbeing or community kaupapa."
Khye says Christchurch has a strong community garden movement and that these gardens often have team members who are willing to share their expertise and teach newbies about gardening.
"These gardens are a way to be part of a collective, working together while getting your hands dirty."
Grow with your plants
Gardening has been pivotal to boosting Auckland-based freelance art director Ashley Sutton-Davis's mental wellbeing.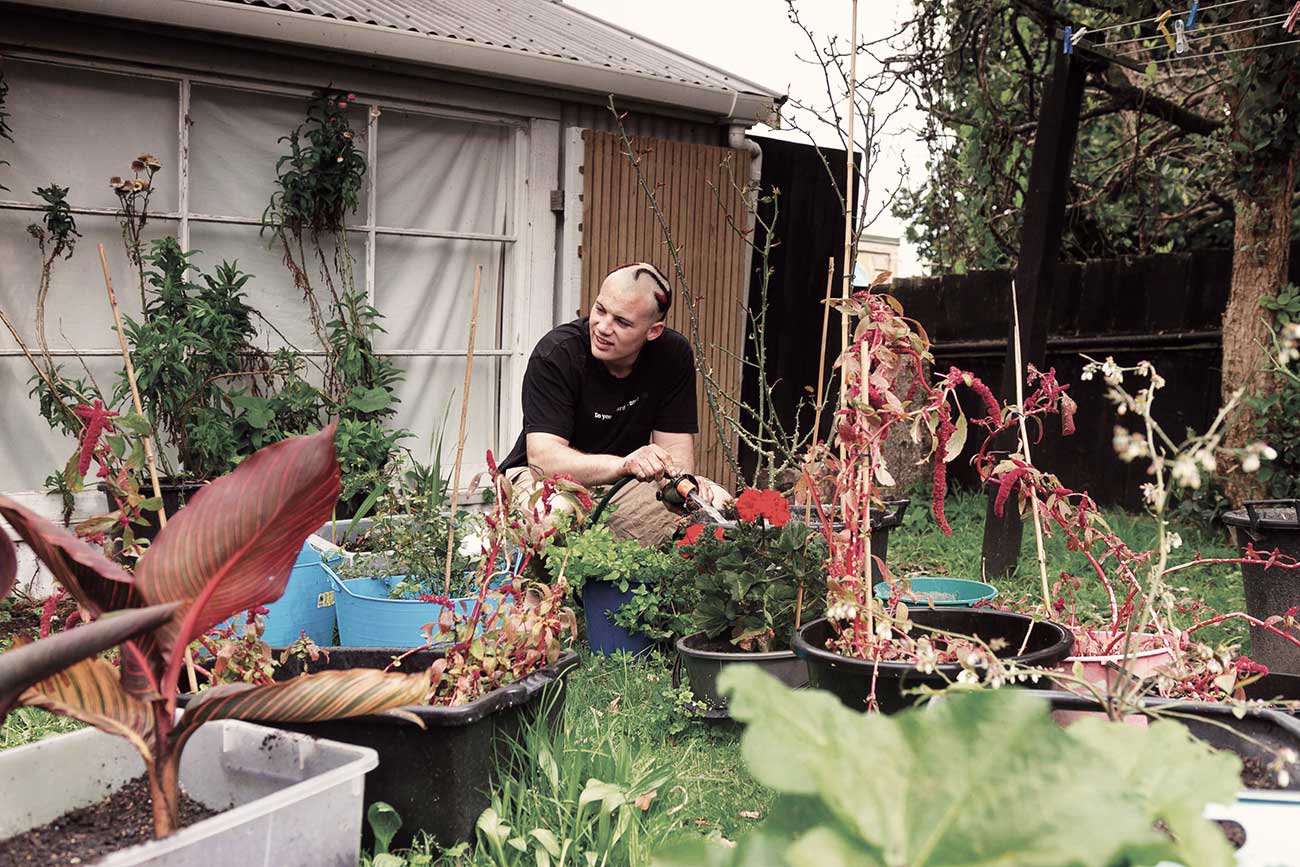 Avid gardener and YouTube gardening show host Ashley Sutton-Davis says gardening is great for his mental health
Ashley, who was born in London and raised in New Zealand, says he got into gardening while flatting in Melbourne.
"We had this big overgrown garden, and I thought I'd try doing some work on it. I had no idea what I was doing, but the beauty of gardening is it's so easy to start.
"I ripped out everything that looked dead and had to ask my mum for a lot of advice. She told me tomatoes were easy to grow, so I planted 10 tomato plants. I was eating them for months," says Ashley.
Ashley moved around Australia and Canada while working in photography and film and says starting his garden again in each rental is part of "the circle of life".
"I always say even the best gardeners stuff up, and it's ok if you kill a plant or have to move house. Starting again is part of the process of gardening. It's just about getting your hands in the dirt."
The living, breathing world
After struggling with his mental health, Ashley says gardening helped his recovery and complemented the medical advice he was given.
"Gardening taught me how to connect again and not to just connect to the wifi. I got back in touch with the most valuable resources for my mental health – my community, people, things that are physical, things that you can touch and see and react to. I found the living, breathing world again.
"I think part of depression is being so low that you don't really do anything. Your mind just spirals, and it's hard to break out of that. Gardening grounded me and slowly boosted my confidence as I watched things grow.
"If you have a few plants, you see them change every single day, which I got so much fulfilment out of. You're also responsible for these plants – if you don't water them, they're going to die."
Ashley says gardening has positively impacted his life in lots of ways.
"I've met so many great people through it, and I do so much reading and research about plants. I'm so obsessed with gardening that I'm growing poinsettias in my closet right now, trying to give them the perfect balance of light and dark to get them nice and red for Christmas."
Ashley believes gardening should be a mainstream public health tool.
"It's wrong that New Zealand has some of the highest levels of some mental health issues in the world but we also have one of the greenest countries in the world."
Ashley now runs a YouTube channel, Kiwi As Gardening, teaching the basics of propagating, potting and planting to an eager audience.
"There are heaps of gardening shows, but they're not always that lighthearted or approachable. I'm going back to the basics – putting a seed in soil, putting it in the sun, watching it grow and enjoying that."
garden again in each rental is part of "the circle of life".
"I always say even the best gardeners stuff up, and it's ok if you kill a plant or have to move house. Starting again is part of the process of gardening. It's just about getting your hands in the dirt."
Watch a video of Gayle's story below
Know someone who might enjoy this?