A Kiwi doctor working in a London hospital during the pandemic describes his experiences over the past year.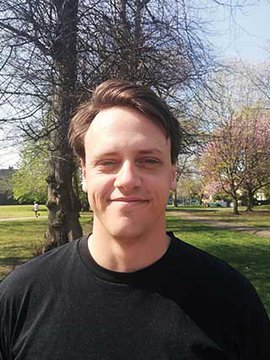 New Zealand-trained doctor Nic Harper and his fiancée Lucy, a pharmacist, could never have dreamed how life would pan out as they boarded a plane for the UK in July 2019 to begin their long-awaited OE.
Planning to mix casual hospital work with travel around Europe, Nic began work as a locum on NHS hospital wards in March 2020, following a period of downtime to complete the UK General Medical Council's registration exams.
Soon after, a surge of COVID-19 cases forced the country into lockdown and abruptly ended his ideas of a lifestyle balancing work and travel.
Joining the NHS frontline
Nic's initial assignment at London's Royal Free Hospital thrust him onto the frontline of the fight against the virus. After only four days on the job, wards were thrown into chaos as the seriousness of the situation became apparent, and infectious disease measures were swiftly put in place.
Nic says one of the biggest challenges in dealing with the virus was its unpredictability.
"Patients would go downhill fast and have us preparing for the worst, then be sitting up chatting the next day. It can be quite bamboozling and difficult to know what to communicate to families.
Nic Harper
As the pressure on the system grew, care options became limited.
"We weren't able to escalate people to higher levels of care, like ICU, that we might normally have due to strain on the system. This was quite upsetting, particularly as I was on the elderly care ward initially, so almost none of my patients were deemed suitable for ICU."
Nic says, as the year went on, the mental and emotional pressure of caring for patients and keeping the families updated on their progress took its toll and he started to feel very burnt out.
"With people in a heightened state of fear and no one able to visit, there were constant phone calls from family members extremely worried about their loved ones. I could have easily spent half the day on the phone, but that's time hospitals don't budget for – time that needs to be balanced with treating patients."
Sadly, some of his patients didn't make it. Nic found himself working under extreme pressure on the wards with far higher mortality rates than anything his previous experiences had prepared him for.
The waves kept coming
After several months working on COVID-19-ravaged hospital wards, Nic took a position at a small rehabilitation hospital for older patients, focused on physical therapies to support a patient's return home.
Unfortunately, the virus made its way into this workplace as well. Less than two weeks into the job, the second wave of COVID-19 swept through the unit, turning it into an acute hospital overnight.
"Patients suddenly needed urgent medical treatment in a basic unit with no ICU – one that lacked the resources of a larger hospital. The unit was locked down, and the very ill were transferred to other hospitals. It was a really intense time," Nic says.
Stretched to their limit for months on end, the pandemic has taken a heavy toll on NHS workers, but much has been learned in the process.
"Even in this relatively short time since the pandemic began, there have been big advances in knowledge and treatments. The vaccine is definitely a light at the end of the tunnel, but we are all cautiously optimistic as there are still so many unknowns. It's too early to see any tangible effect of the vaccine yet."
Then in mid-November, Nic himself contracted COVID-19. He discovered this following a routine swab at work but was completely asymptomatic. It meant isolating at home for about two weeks.
"I had actually finished my placement there the previous day and wasn't due to start a new placement for two weeks, which was lucky as I was able to self-isolate without missing work. It was definitely a bit of respite."
Nic says many of his colleagues have also been infected. Most are asymptomatic or have mild symptoms but some have ended up being quite unwell. At one hospital, one of the consultants ended up in ICU.
A home away from home
Nic grew up on Auckland's North Shore although he's always had a strong connection with the UK through his English mother. Still living and working in London, he misses family in New Zealand, but having a comfortable place to live makes all the difference.
"I have family here and my fiancée's family live in the New Forest, so we feel as if we have a home there too, which is great," he says.
"With everything that's happened, we've been a bit deprived of the travel we'd planned, so we're going to hang in here for now and hope things will eventually return to something that's a bit more normal this year." 
Know someone who might enjoy this?