With one in four Pacific children still living in poverty in Aotearoa New Zealand, Moana Connect is on a mission to drive meaningful change in Pacific communities.
When you're spinning as many plates as the team at Moana Connect, there's no simple answer to that age-old conversation starter, "What do you do?"
What began as a Pacific-focused research agency quickly morphed into far more than collecting data. These days, Moana Connect is involved with everything from running a hub to support new parents to developing programmes that help Pacific elders stay up to date with technology.
For Moana Connect General Manager Mary Roberts, the work is endless but the rewards are many.
"We came together six years ago as a group of clinicians, researchers, public health leaders and cultural experts working in child and maternal health, and we soon found out we couldn't just do research. But with research and evaluation at the core, we've expanded into community partnerships, education and advocacy. It's busy – that's probably why I've got some grey hairs!
"Our focal point is our families and communities. It's about putting the information we gather to practical use, ensuring community participation and supporting our families to lead."
Underpinned by traditional values and shared cultural understanding, Moana Connect's work is arranged into three key areas or vaka (canoes): research, learning and community. Each has a vital role to play when it comes to getting the best outcomes for the communities they support.
"We know that, when we do a piece of work, it doesn't end with submitting a report," says Moana Connect Research Manager Dr Seini Taufa. "That's actually just the beginning."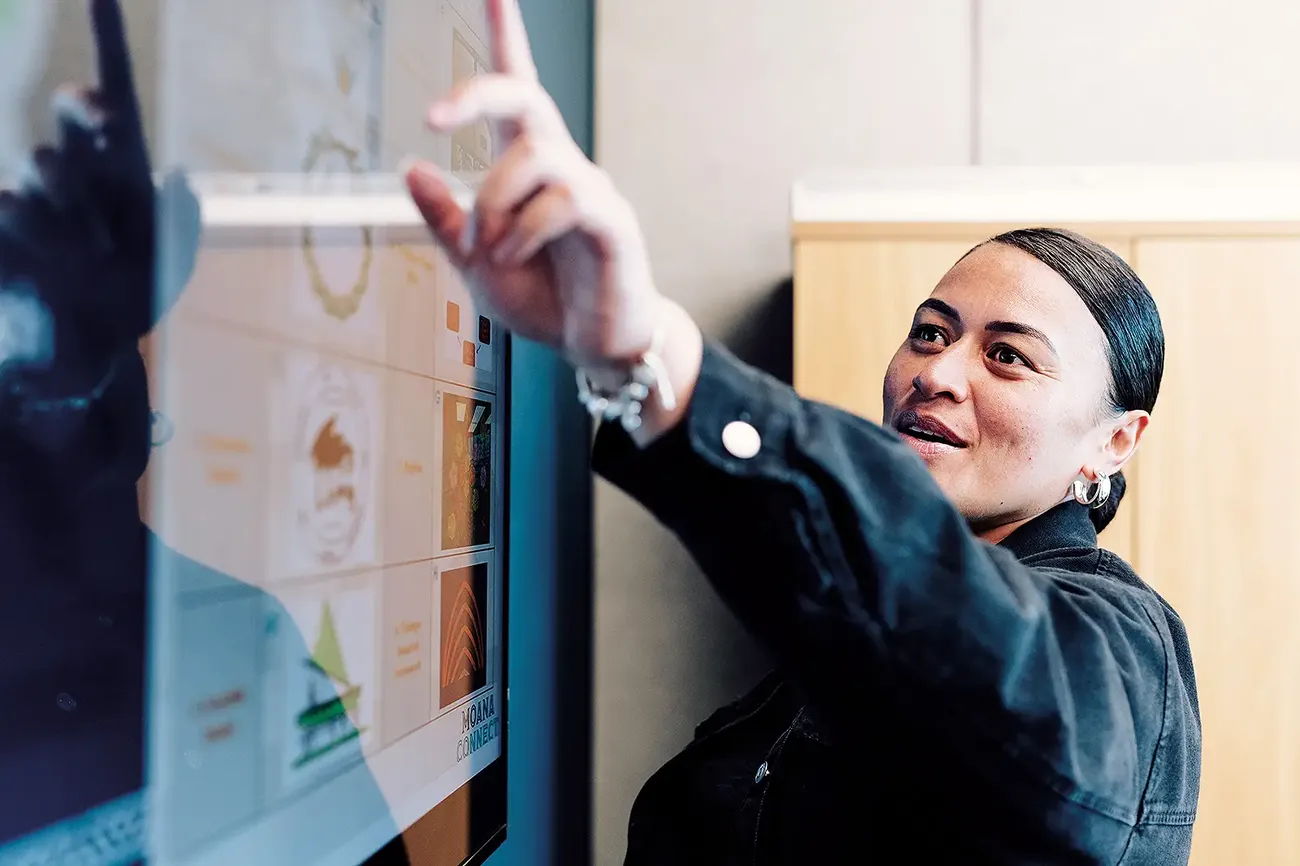 Merenaite Faitale-Mariner works in health promotion at Moana Connect's Learning Vaka.
"Our Learning Vaka is about the dissemination of findings. We have academic publications, but as our communities are oral communities, we share information through other channels like webinars and social media reels to tap into our younger demographic. At the end of every report, we have recommendations, and these might be to create community initiatives, so that's where our Community Vaka comes in. We think of it as transformative research."
A call to action for child wellbeing
Moana Connect recently spearheaded one of its biggest projects to date – New Zealand's first-ever Pacific Child Wellbeing Conference. Held in March, the event brought together community leaders, politicians, health experts and families alongside a hard-hitting 10-year plan to improve the lives of thousands of Pacific people.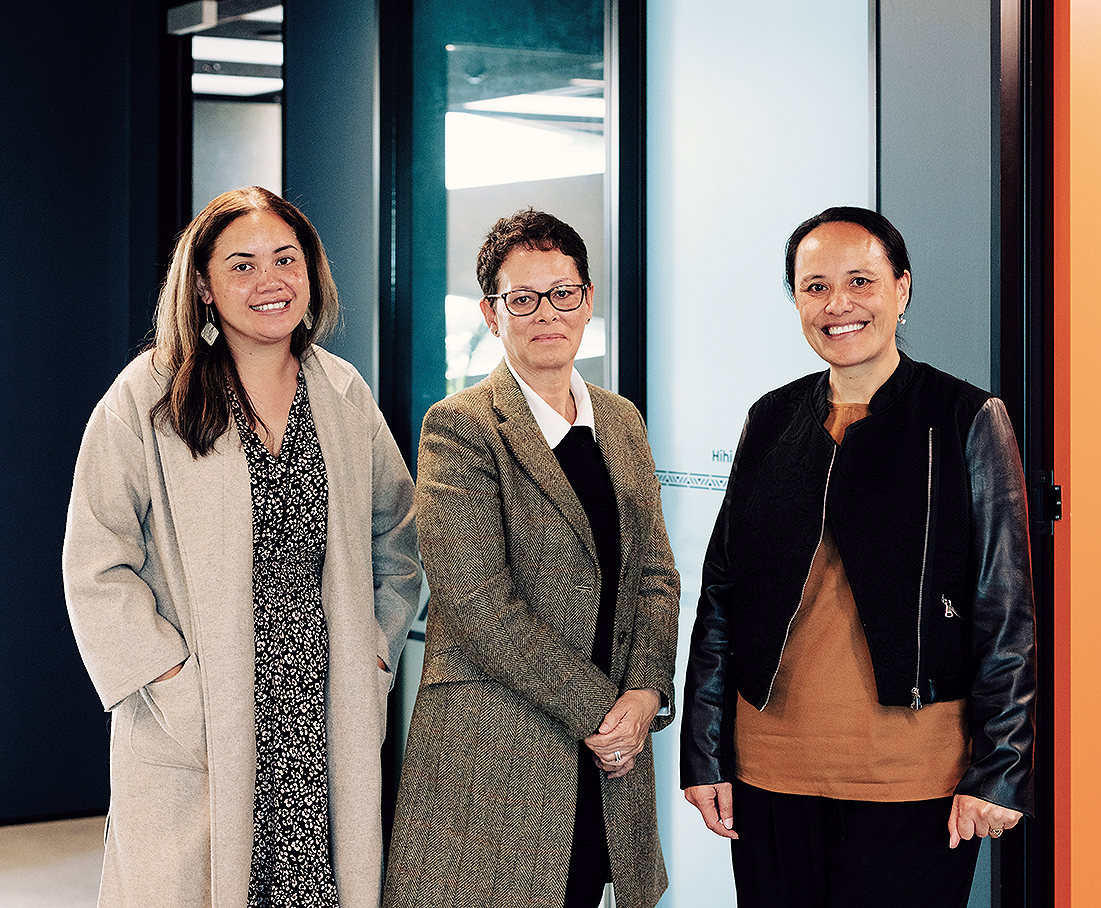 Moana Connect co-founders include Dr Seini Taufa, Dame Teuila Percival and Mary Roberts.
With backing from the MAS Foundation, the Tamaiti Ole Moana 2033 report was produced to support advocacy for Pacific children's health and wellbeing. It highlights how one in four Pacific children are living in poverty (compared to one in 10 for the overall population) – a statistic that remains largely unchanged despite the government's 2018 Child Poverty Reduction Act – and calls for a stop to Pacific children being left behind.
The unflinching report also sets out key steps including building a minimum of 5,000 multi-generational homes suitable for Pacific families, ensuring a further 30,000 homes have better insulation and ventilation and expanding the number of Pacific childcare centres.
Moana Connect co-director Dame Teuila Percival says it's about taking action by focusing on the unique strengths of Pacific communities.
"Research often prescribes arbitrary or negative things about Pacific Island people, but for this report, we took a strength-based approach and outlined positive solutions."
"It comes back to our belief that research belongs with the people we are working with, not in a filing cabinet."
Alongside a plan to reduce inequity and inequality, Tamaiti Ole Moana is also a call to the government to empower Pacific communities to be the ones to drive the change.
"Historically, decisions have been made on behalf of Pacific people, by non-Pacific people," says Seini. "We have highlighted that we know our people, we know the problems in the Pacific community, but we also know the solutions. We're pushing for the government to invest in Pacific providers as we have some incredible people doing amazing things."
Doing things the Pacific way
When it comes to getting stuff done, having shared cultural values and world views is central to Moana Connect's work. It's an understanding that promotes community engagement and strengthens trust.
"For us, relationships are key," says Mary. "We celebrate successes in our community and stand together. Reciprocity is another aspect of the Pacific way, so if our communities are doing work for us, we always make sure that, no matter what, they are reimbursed for their time. Also, people want to hear what happened to their talanoa (conversations), and they trust us to go back to the communities and tell them what we're doing with the information and how it's going to benefit them."
Moana Connect is proudly backed by the MAS Foundation
"Moana Connect's work aligns with the MAS Foundation value of being bold, being brave and being steadfast in order to realise its purpose of improving health and wellbeing equity and its vision of children and families flourishing together in Aotearoa" says Head of Foundation Mafi Funaki-Tahifote.
Head of Foundation Dr Julie Wharewera-Mika says, "MAS Foundation supports initiatives led and driven by Pacific, embracing the Samoan proverb E fofō e le alamea le alamea (Let the issues within the communities be resolved by those in the communities) recognising solutions are within communities. Moana Connect weaves Pacific cultural contexts, world views and understandings of holistic health and wellbeing into community-led solutions advocating for equitable responses fundamental for Pacific children to flourish."
Moana Connect's research is underpinned by a Pacific Framework, and part of this is about understanding nuances between various Pacific groups.
"Often, it's about knowing who are the most appropriate people to talk to," says Seini. "For example, we were doing a project on the experiences of Pacific people with cancer navigating the health system, and one of the participants was a Tongan male. I knew that, for me as a Tongan female, it was inappropriate and taboo to ask him certain questions based on the type of cancer he had. So that was a matter of getting one of my Tongan male colleagues to engage with this particular person. Again, it comes back to the investment into relationships and maintaining those relationships.
"A benefit we have is that, because we're Pacific owned and Pacific governed, we can do things the Pacific way without losing the integrity. It's that beautiful marrying of our western skill sets without forgetting who we are and what it is that allows us to navigate spaces that a lot of people find difficult."
Since finding their feet as a group, Dame Teuila says the Moana Connect team is going from strength to strength. "It's just fantastic to work with such a vibrant and creative group of individuals. There's a real sense of we can do anything if we think it through and put forward some steps. We know we can make things happen."
And looking to the future, they will also be helping to nurture a new generation of Pacific researchers, leaders and change makers.
Know someone who might enjoy this?