With sponsorship from MAS, a group of University of Auckland engineering students is building the next generation in electric vehicles, gaining attention in the engineering and tech industries in New Zealand and further afield.
In a workshop at the University of Auckland, the next generation of race car engineers are refining their winning formula.
The university has had teams enter the Formula SAE competition since 2004, an international competition to design and build a Formula-style racing car. University of Auckland entries consistently place in the top 10, and the contest has helped launch the careers of some of this country's brightest young engineering minds.
Teams can compete in two categories, designing and building either a combustion engine or an electric vehicle, and the university's teams made the switch to electric in 2016. This year's team is sponsored by MAS and is putting the finishing touches on this year's entry – an electric vehicle bearing the colour and number of New Zealand racing great Bruce McLaren.
While speed is one factor the judges are looking for, it's far from the deciding metric. Students are judged on their creativity and imagination as well as their ability to create a commercially viable vehicle.
Emily Steiner, a third – year mechatronics engineering student and this year's deputy team leader, says the judges consider the car's acceleration, skidpad performance, an autocross time trial, endurance and efficiency. The teams are also judged on their design presentation, build cost and a hypothetical business case behind the car.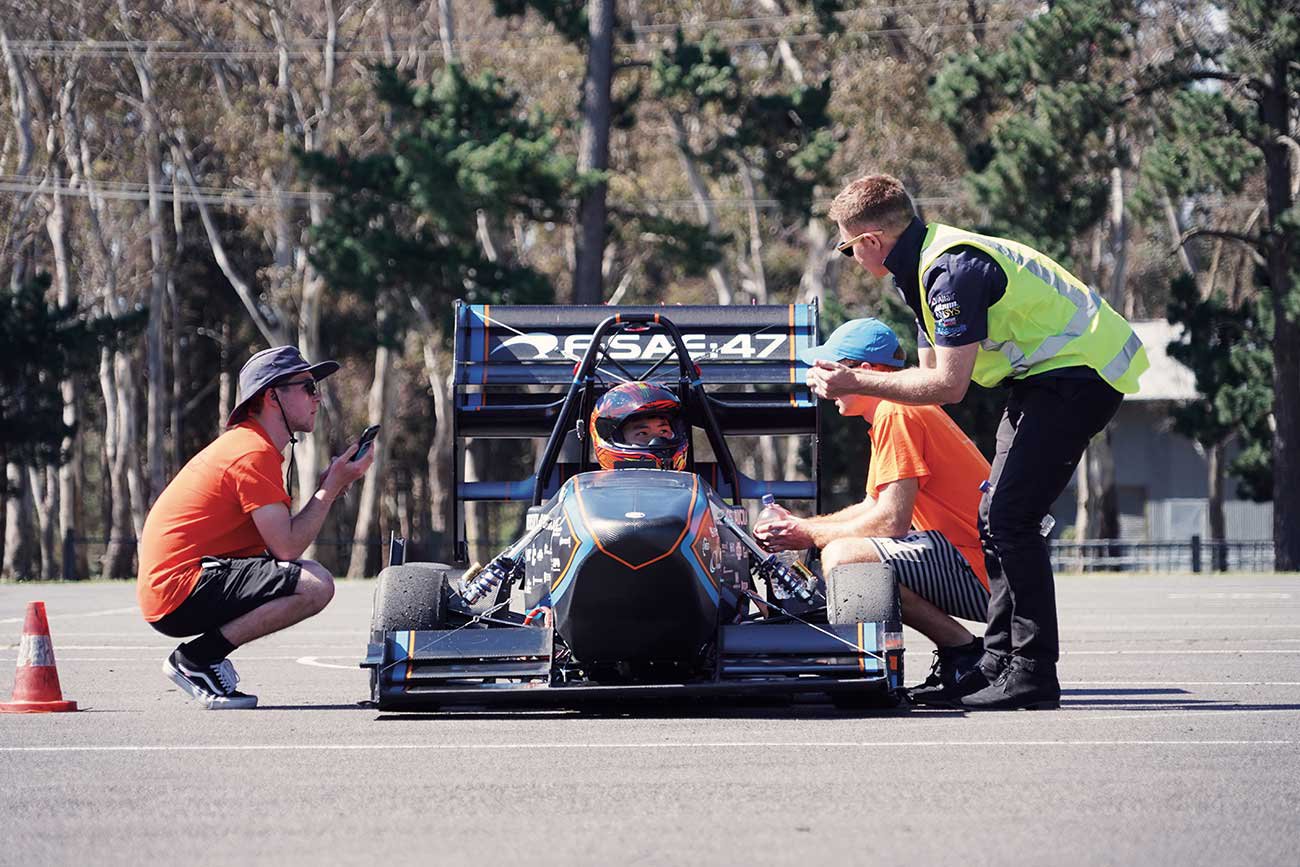 The groups compete at an annual four-day competition in Australia
Engineering success
Emily says the team recruits members not just from the engineering school but throughout the university. Students go through an application process that includes a two-week practical project working on a small element of the overall process.
"The biggest thing we look for isn't necessarily that people have the knowledge already, because a lot
of students are coming straight from high school.
It's about seeing that they're keen to be involved, happy to ask questions and have the right approach," says Emily.
"This year, we took on 25 students, which has led to a team of over 70. We're hoping to increase that as the years go on and we get a bigger team, and we're looking at building two cars in the future."
The team is split into four subgroups: composites, which involves working with carbon fibre and building the chassis and aerodynamics; suspension, which involves creating and assembling metal components to build the driveline connecting the motors and wheels to the body of the car; electrical, which involves create a custom battery pack and creates the control system for the entire car; and marketing, which includes sponsorship and events.
Months are spent designing, refining and building the vehicle and testing it extensively before it competes in the four-day competition towards the end of the year in Australia. They even select and train a driver, with applicants testing their skills by go-karting and practising in simulators before getting behind the wheel of their electric race car.
Persistence, resilience and problem solving
Biomedical science student Priya Prasad is the team's marketing manager for this year's cohort, and she says Formula SAE provides the students with hands-on experience that's appealing to employers.
"Lots of job opportunities come out of being part of the team. We have alumni working at Rocket Lab, with Emirates Team New Zealand and founding companies like Halter and Seachange. Quite a few now work in Formula One and Formula Two, and former team members have also gone on to work at our sponsors.
"I think employers really look for that practical experience, where you've applied the theory to something real and can show how you've contributed to the team. I work in the marketing team, and as a result of that, I'm now working as the marketing manager for an events company," says Priya.
Emily says, "From an engineering perspective, you go through your engineering degree working on projects where, if you muck up a calculation or something doesn't work, you just get a slightly worse grade. Whereas when you're building a race car, if you muck it up, you have to figure out a way to fix it.
"If you join the team in your first year and stay with it, you pretty much come out of your degree with four years of work experience. You're managing projects, doing people management, working on design and manufacturing and learning how things are really made rather than just the theory.
"It's really cool how persistent everyone is and how resilient you become. It might not always work out, but you find solutions and creative ways to make it work. You just don't get that with a degree alone, and it's really useful for your career. Team members are very valuable to employers. They come out of uni with such an advantage," says Emily.
She says that, while team members are expected to commit a minimum of 15 hours a week to the project, they also take their academic obligations seriously and have academic performance standards they have to meet.
"We find members do really well at uni as well – what they learn in the team applies to their studies and vice versa," she says.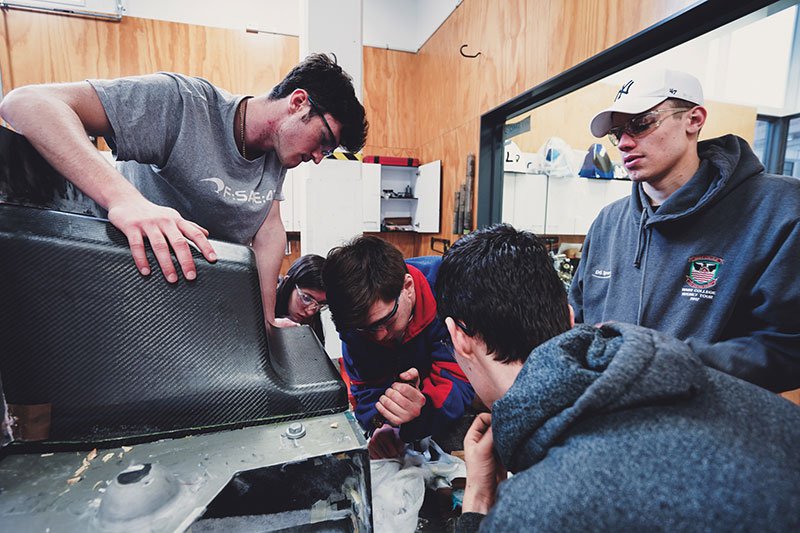 Students design and build the race cars on campus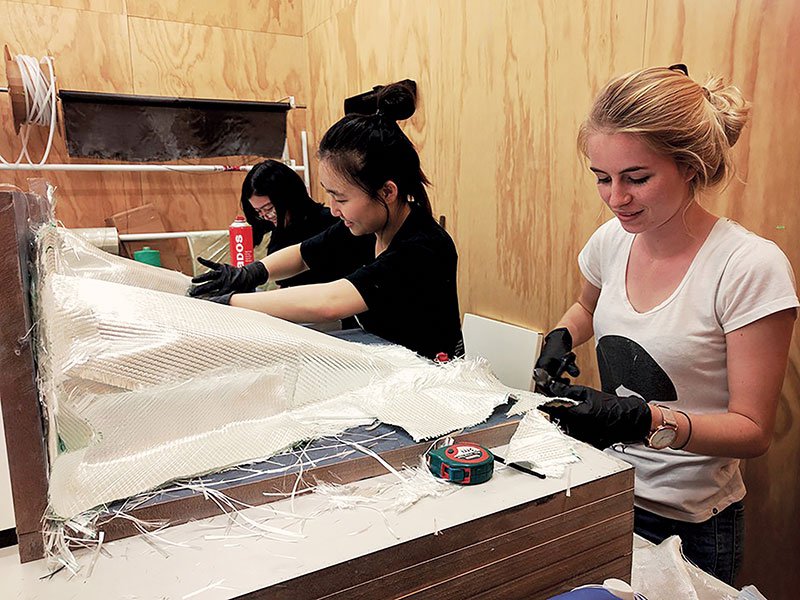 The team spends months designing, refining and building the vehicle
Following in McLaren's tyre marks
Priya says the team works with a range of sponsors who provide support that's not just financial but includes sharing software, parts and materials and lending their own expertise.
"MAS has given us invaluable support since they began sponsoring us last year," Emily says.
"Their support has helped us secure the tools and equipment that are vital to the manufacture of the car. Their team is so supportive – they even brought pizzas in for the team during a tough manufacturing crunch to meet deadlines. They have also provided great financial advice to members of the team, which is so helpful for students trying to balance study, work and Formula SAE."
The university's team is also supported by the Bruce McLaren Trust, which looks after the legacy of one of New Zealand's greatest engineers and drivers.
"Bruce McLaren was an incredible man, and we've been so lucky that the Trust has really helped us get on our feet by supporting us since day one," Priya says.
"We're able to use the official McLaren colour and Bruce's racing number 47, which is where a lot of our team identity comes from."
Along with Giltrap Group, another team sponsor, the Trust also supports the McLaren Automotive Award, an internship at the McLaren Technology Centre in Woking, England, for one student each year.
Former Formula SAE team leader Lizzy Grant received the scholarship in 2018 and now ​​works as a graduate design engineer at McLaren Automotive in Woking.
Lizzy joined the Formula SAE team in the first year of her mechanical engineering and physics degree. She says she grew up in a "science and maths" family and always loved all things high performance.
"I always liked cars, but I didn't know anything about the inner workings or the extremes you can take them to. The more you learn about something, the more interested you become in it, and I ended up going down the rabbit hole," says Lizzy.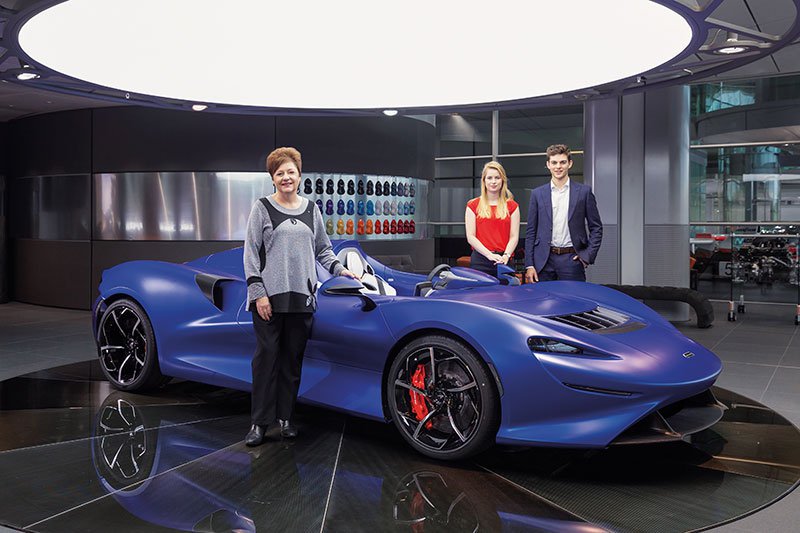 Lizzy Grant (centre) with Bruce McLaren's daughter Amanda McLaren and Harvey Merton a fellow Bruce McLaren Automotive Award recipient
A unique opportunity
Lizzy says she'd always been strong academically but didn't have much leadership experience during school, so she took on the management positions of business manager and deputy team leader in her second year and then team leader in her third year.
"A lot of that was to try and build those soft skills, and it was brilliant for that. As team leader, you're in charge of all the volunteers on the team, you're in constant communication with sponsors, the university and suppliers, you're managing a lot of money. You've got to figure out what the strengths are within your team and how to fill out the weaknesses," she says.
Lizzy travelled to the UK for her three-month internship with McLaren at the end of 2019.
"I rotated between different departments, which was really good for seeing all the different areas of the business and getting a better understanding of everything that goes in to building and selling a car. When you're building one prototype car, you can just fix something if it breaks, but with production cars, you need to have a more robust situation than that."
Following her internship, Lizzy returned to New Zealand for the last year of her degree and was then offered her role as a graduate design engineer working with McLaren's concept team, which develops the initial concepts and layouts of the cars. "It's very much the core of design engineering," she says.
Next-generation STEM leaders
Lizzy says there's "not a huge number" of women in automotive engineering or in STEM on the whole.
"Once you go into the sciences, the number of us drops down, then more so when you get into engineering, then even more in mechanical engineering and automotive.
"But it's definitely getting better, even in my brief time. The percentage of women being hired out of universities is great, but when you don't have the supply coming through universities, it makes it harder."
Lizzy encourages interested students to put their hand up for opportunities like Formula SAE.
"I think it's such a brilliant thing to be involved with. The skills you get out of it are not like anything you develop at university."
"You don't get an opportunity to do something like this very often, and I wouldn't have got my role at McLaren without it." 
Know someone who might enjoy this?