A Kiwi living in America is at the helm of the world's largest mast building company, which has been instrumental in building the yachts vying for the America's Cup.
Despite heading up the company that built the masts and rigging for three out of four boats competing in the regatta, Sam Watson will be watching the racing from afar.
Sam is the Group CEO of Southern Spars and a MAS Member, and currently resides with his family in Newport, Rhode Island – the home of the America's Cup from 1930 until the Australians claimed the trophy in 1983. 
He had hoped to return to New Zealand to watch the racing and see his colleagues' work in action on the Waitematā Harbour but will instead be viewing it from his laptop, which he admits won't have quote the same atmosphere. 
"I enjoy watching the spectacle of the racing but in the back of my mind I know we built the masts for three of the four teams. Putting aside my bias that I want New Zealand to win as a proud Kiwi, my other bias is I want one of our customers to win," he says.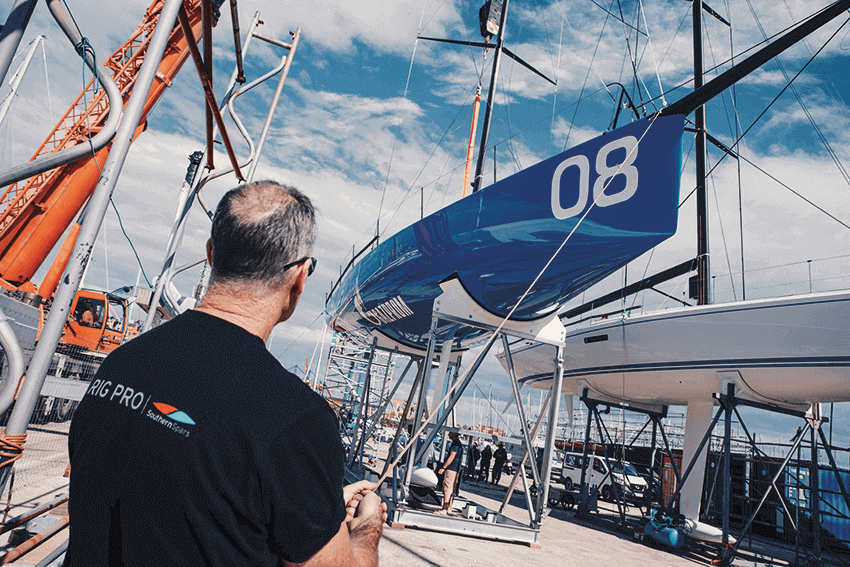 Graduate accountant to CEO
Sam says he could not imagine where his career would take him when he graduated as an accountant and began a role with Deloitte before shifting to PwC.
He was working with a client when he was approached by Southern Spars to take over the Chief Financial Officer role in 2011. Five years later, he became CEO at the age of 31. 
"In my earliest days I was thinking about moving to London and rolling the dice. But because most people my age moved offshore, I found opportunities for me in New Zealand opened up so I was able to make my career there and then move overseas when everyone else was coming back."
In pre-COVID times, his role at Southern Spars took him around the world. But for the moment, he's working from home in Newport, where he lives with his wife Sandra and two-year-old son Liam. 
A Kiwi success story
Founded in Auckland in 1989, Southern Spars started out delivering services to support the America's Cup racing syndicates. 
In 1990, the designed and built the world's first carbon fibre mast, and through a series of acquisitions, have become the largest mast builder in the world, with six bases and 600 employees around the globe and about 80% market share for superyacht masts.
The Southern Spars collection of brands now supplies carbon fibre masts and rigging to yacht owners around the world, fitting out boats ranging from grand prix racing yachts to smaller cruisers. 
A growing love of sailing
Sam didn't grow up sailing but has developed an appreciation and love of water sports through his work, although he admits he remains more of a "guest" on board than a sailor. 
"Even though I'm not a professional sailor, there's a huge appeal to working with these big beautiful boats in wonderful places around the world. We have an amazing market and customer base."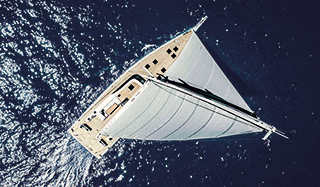 He describes the masts, sails and rigging as the "engine above deck". By engineering and producing these separate components together, Southern Spars helps maximise a yacht's performance. 
Sam has overseen several acquisitions of other mast building companies around the world and has managed the consolidation of multiple manufacturing operations between Spain, Sri Lanka, South Africa and the Netherlands. 
This has made the company the largest mast builders in the world. 
"At heart, I'm a business guy, and it's been a real adventure joining this business and working in a niche industry where I was able to take the reins and transform the business much earlier than I would have elsewhere," he says. 
No COVID slowdown
Most projects take about two to three years to complete, and Sam says the America's Cup projects were close to completion and shipping when COVID-19 hit last year so weren't impacted. 
With the pandemic, regattas around the world were cancelled, leading to a decrease in the company's work on racing yachts. However, the superyacht market has kept them busy over the past year. 
"Initially, service operations in Europe got really quiet, but it got busy when boat owners realised this was the perfect time to get work done."
Sam is also heading up their rapidly growing kiteboarding business, North Kiteboarding, which has its marketing and product teams based out of Kumeū just north of Auckland. 
"That business is growing rapidly. It's about three times the size it was two years ago, and from a New Zealand angle, it's something to be proud of that the largest kiteboarding business in the world has its development base in Kumeū."
In learning the business, he took some kiteboarding lessons and described it as "a lot of fun with a rapid learning curve". It's a hobby popular with America's Cup crews, with many bringing their kiteboards to New Zealand to use when they're not training or racing, he says. 
Know someone who might enjoy this?