In March 2023, MAS will welcome its new Chief Executive, Jason McCracken, who joins the mutual with decades of experience working across insurance, banking, startups and sporting bodies.
When Jason McCracken learned about MAS's purpose-led vision for the future, he knew he wanted to become the organisation's next Chief Executive.
After working in the insurance industry for more than two decades, with stints working for startups and within the international sporting world, Jason has spent the past two years away from the corporate world, living in Wānaka with his family, making wine and working as a ski instructor.
He says he needed a special kind of opportunity to pull him off the slopes and back into corporate life, and he is looking forward to joining a company that is "striving for something bigger than driving shareholder value".
"The work that the MAS Board and outgoing CEO Martin Stokes have done with establishing the MAS Foundation was a major factor for me joining the organisation. You think about what you want to do with your experience, and at this stage in my career, I want to make a difference – and this is an organisation where I believe you actually can," he says.
Jason was also attracted to MAS's mutuality, meaning the focus can be on delivering outstanding service for its Members rather than seeking ever higher returns for shareholders.
"The insurance industry in Australasia is a duopoly, and I have worked on the executive teams of both of the two big players as well as ANZ in New Zealand. While these organisations are a very important part of New Zealand and Australia's financial services systems, I've done 'let's drive shareholder returns', but actually, I want to get out of bed in the morning and make things better, make a difference, actually improve things in my own small way."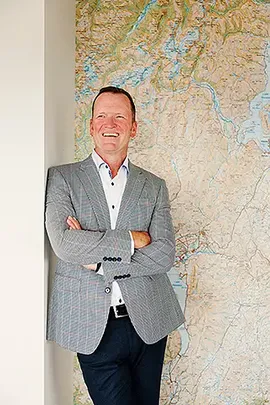 A breadth of financial experience
Jason's prior roles have given him expertise across insurance and financial services. Aged just 29, he became Chief Executive of the Insurance Institute of New Zealand. Recent roles have included Head of Insurance and Investment Risk at ANZ and Managing Partner of Donaldson Brown Insurance Brokers, a disruptive, fee-based, New Zealand broking firm. He spent four years in Australia at Suncorp and over a decade in New Zealand on the executive team at IAG New Zealand.
Jason says his experience across multiple businesses, from the small to the multinational, means he has a deep understanding of what it takes to run a successful financial services business. He has done everything from the front end of a business, developing new product channels to market and improving technology for customers and staff to leading a national claims team to executive leadership and CEO roles.
"In general insurance, I've done pretty much everything from sales and marketing through to pricing, customer experience, product and claims – which is ultimately what any insurance company is there for – and delivering an outstanding quality experience. When something has gone wrong for a member and they need us most, it's the moment of truth for our business."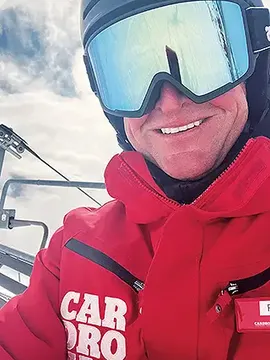 Following your passion
Jason and his wife Jo have moved to Wellington from Wānaka, where they have spent the past two years working on ski fields alongside their son, 23-year-old Matt. Jason's daughter, 25-year-old Sarah, is currently working with FIFA to deliver the Women's Football World Cup this year. Jason says he had always dreamed of becoming a ski instructor, so he gained his certification in 2021 and worked at Cardrona and Treble Cone resorts during the 2022 season.
Skiing is not the only physical pursuit that has captured Jason's imagination over his 55 years.
As a young man, he played hockey and then, as most of his teammates were hanging up their sticks, he took up the challenge of umpiring and sports administration. Unsurprisingly, he scaled the heights of what was possible there as well – umpiring at the 2000 Sydney and 2004 Athens Olympic Games. In 2012, he was Assistant Tournament Hockey Director at the London Olympics, and in 2016, he was appointed Tournament Hockey Director at the Rio Olympics.
In 2016, he and Jo moved to Switzerland, where he took up the role of Chief Executive and Executive Board Member of the International Hockey Federation for two years – an organisation representing 147 countries playing the world's third-most popular sport.
As this issue of OnMAS goes to print, Jason and his daughter will compete as a tandem team in the Coast to Coast. That means training for the 243-kilometre journey has dominated their summer. It will be a family affair on the course, with his wife, son and daughter's partner also competing in a three-person team.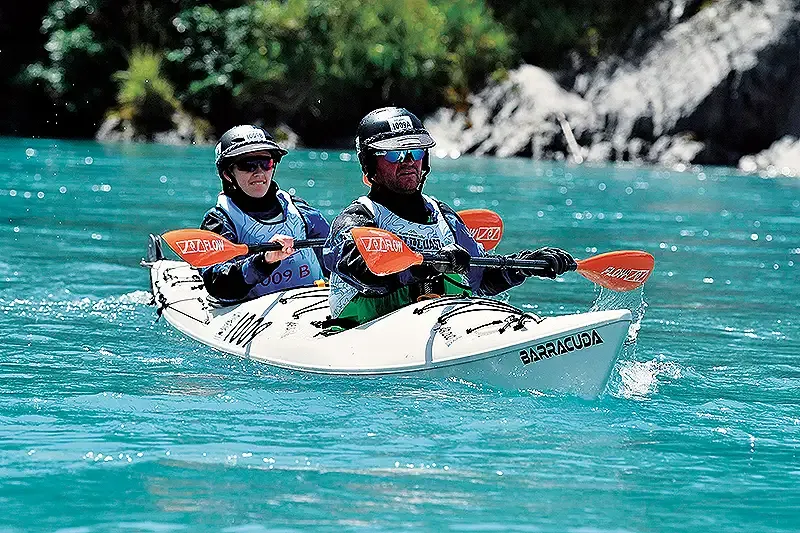 Above / Jason and his daughter Sarah competing in the 2023 Coast to Coast.
Jason and his daughter Sarah competing in the 2023 Coast to Coast.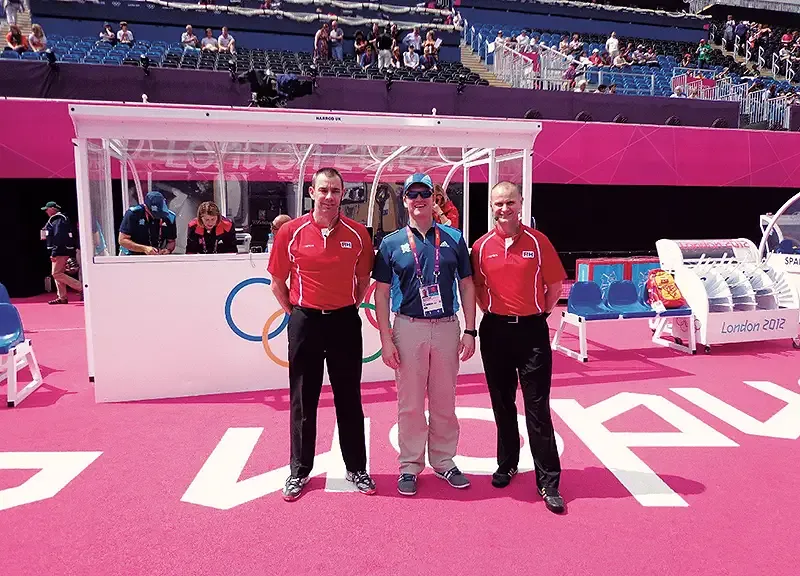 At the London 2012 Olympics, where Jason was Assistant Tournament Hockey Director.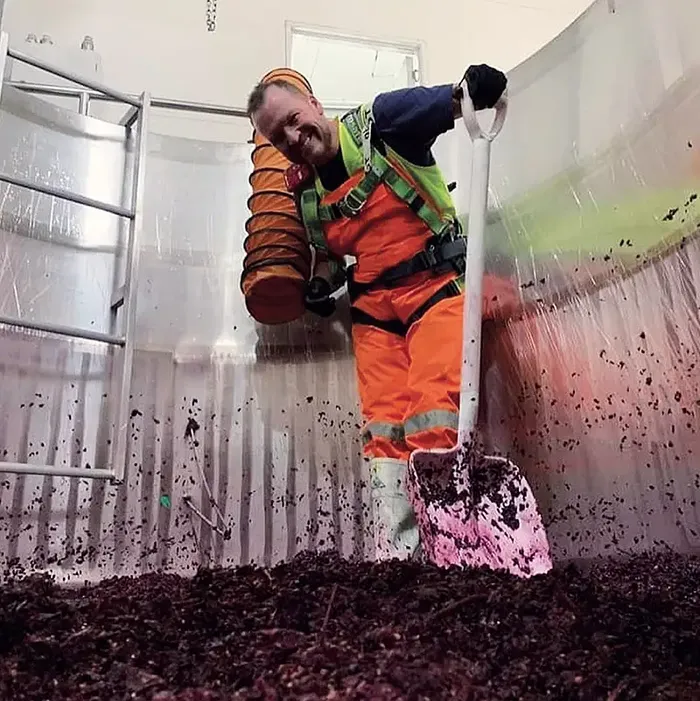 Top / At the London 2012 Olympics, where Jason was Assistant Tournament Hockey Director.
Bottom / Working vintage at Spy Valley in Marlborough.
Working vintage at Spy Valley in Marlborough.
Sporting lessons for the boardroom
Jason says his sporting career has made him a more decisive leader.
"Firstly, teamwork. That's critical. You can't achieve anything by yourself, even if you're umpiring a hockey game these days. There are two umpires, you've got video umpire, and we're working together to get the best outcome through to running Olympic Games like Rio where you've over 50 different cultures, different languages, different belief systems, different religions all coming together to deliver an event watched globally by billions of people.
"So bringing people together, communicating, taking the time to make sure you're all on the same page before you move forward – those skills and lessons are things I use every day." Jason says the second big lesson is it's all about people.
"All my sporting and business endeavours have always been about people. I get a buzz out of helping people.
"I have always worked in service industries. If it is helping someone to replace their grandmother's lost wedding ring to an entire community struggling to rebuild after a one-in-100-year flood, or helping a young person understand how to grow their wealth through KiwiSaver to dealing with the loss of a partner and the impact that has on their family. Take that through to running a major sporting event or teaching someone to ski for the very first time. It's always about people.
Sport has also taught Jason the importance of having fun along the way – to enjoy your work and the people you work with and to always celebrate the wins.
Getting started
Jason starts work this month as the MAS team is working hard to settle claims and help Members recover from the floods of late January and February's Cyclone Gabrielle.
"My heart goes out to the people who've lost so much this year. My first priority will be ensuring our teams have all the resources they need to support our Members through their recovery. It's times like these that reinforce for us all why we work in the insurance industry," he says.
His next focus will be developing a deeper understanding of the growing MAS membership.
This work began during the recruitment process when he spoke with many stakeholders both within and outside the organisation.
Still, there will be much more to do once his feet are under the desk.
"I want to get a sense of what our Members really want, where the Foundation sits in their hearts and minds, what they're looking for from a product and service perspective and what sacred cows we can't touch."
That includes retaining what makes MAS unique as a purpose-driven mutual with a philanthropic Foundation. He's looking to give staff the right tools they need to work more effectively and to allow MAS to deliver an even better experience for its Members.
"I love working in team environments, and with people, so I'm keen to get amongst the team and understand them and make sure we're all on the same path."
Jason acknowledges the outstanding work of the board and outgoing CEO Martin Stokes to get MAS to this point and is excited to start taking the 102- year-old company into the future.
Know someone who might enjoy this?