We live in a time with an incredible proliferation of scientific innovation, but conspiracy theories are increasing in popularity. Some of Aotearoa's best science, technology, engineering and mathematics (STEM) communicators discuss how they approach sharing complex ideas in the age of misinformation.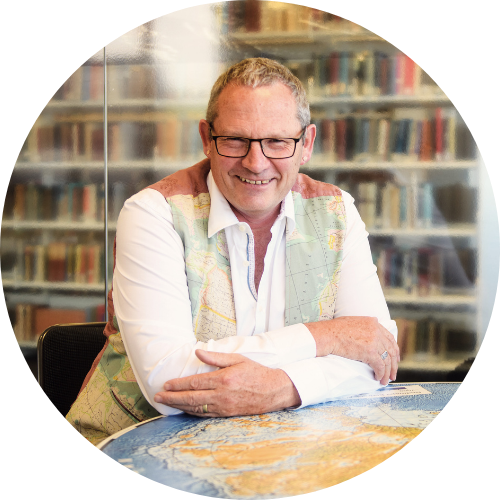 Professor James Renwick (pictured) has no doubt that belief in conspiracy theories is on the rise. As a climate scientist, professor at Victoria University of Wellington and winner of the 2018 Prime Minister's Science Prize for Communication Prize, he's had his fair share of conversations with climate sceptics.
"Any time a scientist does something professionally these days, there is someone out there thinking it's part of a conspiracy theory. Misinformation is certainly becoming more prevalent, and it's well documented that social media has been a great boon in this department because of its echo chamber effect."
Having grown up during the time of the Moon landing, James believes people today have less trust in science.
"This shift does puzzle me, but more than that, it worries me. When I started my career, it was generally agreed upon that science was a good thing and that scientists were aiming to do things for the good of mankind," says James.
Conversing with climate change sceptics
James won praise for his unique climate science conversations, which are always imbued with humour and humanity.
"I always try to get through on a human level. It's about finding out what people are afraid of, what they hold dear, what they wish for. If you understand that, you can get through to them."
"I always try to get through on a human level. It's about finding out what people are afraid of, what they hold dear, what they wish for. If you understand that, you can get through to them."
"That kind of approach is better, especially when talking to someone who's sceptical, than saying 'Here's a paper that's been published on it'.
That causes people to dig in their heels even further."
"You can't win an argument with someone who's opposed to the science of climate change, because it's not about the science," says James.
To make science approachable he uses storytelling to create something that resonates, relying on metaphors and analogies over stats and jargon.
"A classic analogy I use is that adding more carbon dioxide to the air is like putting a thicker blanket on your bed at night. It's creating that thicker blanket around the Earth and heating it up. This may not be perfectly correct scientifically, but I think you can cut a few scientific corners in order to get a message across."
"Great communication sticks with you in the same way that a great novel does. You might think climate change is a dry topic, but I can get a laugh out of most audiences – even if it is at my expense."
James is also interested in the marriage of art and science. Using funding he received from the Prime Minister's Science Communication Prize, he developed a series of workshops pairing scientists with artists and was "stunned" by the work that came out of it, which included plays, video installations, musicals and a dance piece by Ngāi Tahu choreographer Louise Potiki Bryant.
"If you can partner with the arts to get your message across, you're going to reach an awful lot more people than you would with an academic paper."
The face of Aotearoa's COVID-19 response
MAS Member Professor Michael Baker (pictured) has become very familiar to New Zealanders. The public health physician and epidemiologist at the University of Otago in Wellington has been inexhaustible in the face of the COVID-19 pandemic, delivering more than 2,000 media interviews since January 2020. While he's always been a prolific science communicator, he says this period has been the most intense of his working life.
In addition to interviews, he has also contributed to more than 50 science blogs and features that have been widely read not just in New Zealand but around the world.
He is the 2021 winner of the Prime Minister's Science Communication Prize, was made a Member of the New Zealand Order of Merit and was selected as Wellingtonian of the Year in recognition of his mammoth contribution to Aotearoa's pandemic response and his 30-year career in public health.
Important science messaging is often aimed at key decision makers and also empowers the wider public to give governments the social licence to act decisively in times of crisis, Michael says.
"Scientists are often ahead of government policy, which we saw in February last year when the world was sitting back and waiting to see how we should respond to COVID-19, and I felt New Zealand was initially slow to act.
"Effective science communication can also improve the resilience of communities. For example, the success of our vaccination programme depends on a high level of uptake, so this is where science literacy is important."
Understanding of scientific ideas and being able to assess evidence improves public resilience so that people are less vulnerable to misinformation in the future.
Michael says, "We know that misinformation kills people. There are many examples of that."
Michael agrees that there has been a rise in scepticism. "This is partly because we're so bathed in information sources that there's no single accepted voice on anything. Even the concept of having expert voices is more contested than it used to be. There is an almost endless deluge of information sources, some of which are barely or not at all curated, so it's hard for people to judge the merit of each."
How to counter vaccine doubters
Michael has some advice for medical professionals who will be having tough conversations with vaccine sceptics as our country's vaccination programme goes on.
"There are two familiar categories of people here: anti-vaxxers and the vaccine hesitant. I'd say there's little point in putting much energy into debating with anti-vaxxers. They have intensely-held personal beliefs that aren't about evidence."
"The group to focus on is those who are vaccine hesitant. This is the group that the government will work hard to communicate with through various channels and the group where it's worth spending time trying to understand the basis for their concerns," says Michael.
"There's a natural fear of the new and the unknown, and many will come around over time as they see the COVID-19 vaccine become normalised and widely used."
"There's overwhelming evidence of the safety of these vaccines, so as they see people they know getting vaccinated, this fear will gradually decrease over time."
Science communication needs a variety of voices who can speak to different audiences.
"I'm not the person to communicate to some groups. People need communicators who are like them, so they need people who reflect the diverse mix of ages and ethnic groups that make up Aotearoa. That's why it's important to nurture a whole generation of science communicators from many different backgrounds."
The next generation of STEM leaders
One of the greatest communication challenges for any specialist is explaining their work to kids. Engineering New Zealand's Wonder Project, backed by Callaghan Innovation, sees STEM professionals from around the country paired with young Kiwis to work on age-appropriate projects like building rockets or learning how to grow food sustainably.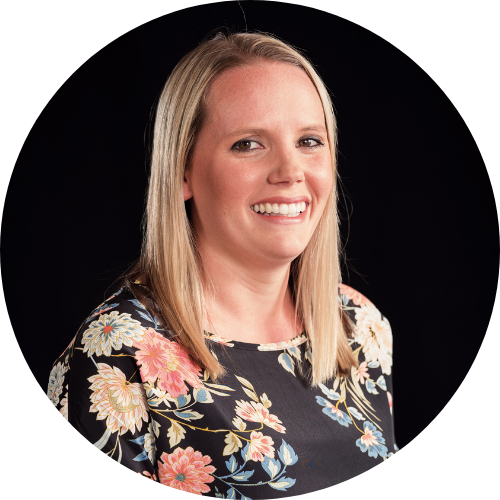 Nearly 20,000 year 5 and 6 students from 620 schools are involved in the Wonder Project Rocket Challenge this year. Programme manager Shelley Pearce (pictured) says the programme aims to inspire Kiwi kids to love STEM by having professionals show them how exciting it can be.
"We reach out for volunteers from our network – anyone who works in the STEM field can become an ambassador and bring lessons from their career into the classroom. Lots of professionals use it as professional development, to boost their confidence and as a way to give back to the community."
Shelley says the project has been very well supported by the engineering profession.
"Engineers like to give back to their profession, and they understand the need to get kids excited about it."
The ambassadors have a huge amount of specialist knowledge but sometimes need assistance making it relatable for young people.
"We have a training programme to get them on board, with a series of online videos and guides. They will usually know more about the technical parts than we do, but we usually know more about how to work with kids. A big component is making their work more relatable, so instead of saying, 'I'm the CEO of this company', they could say that's like being the principal of their school."
Shelley says that the Wonder Project aims to set kids up to be critical thinkers in an era when STEM is key to solving many of the world's problems.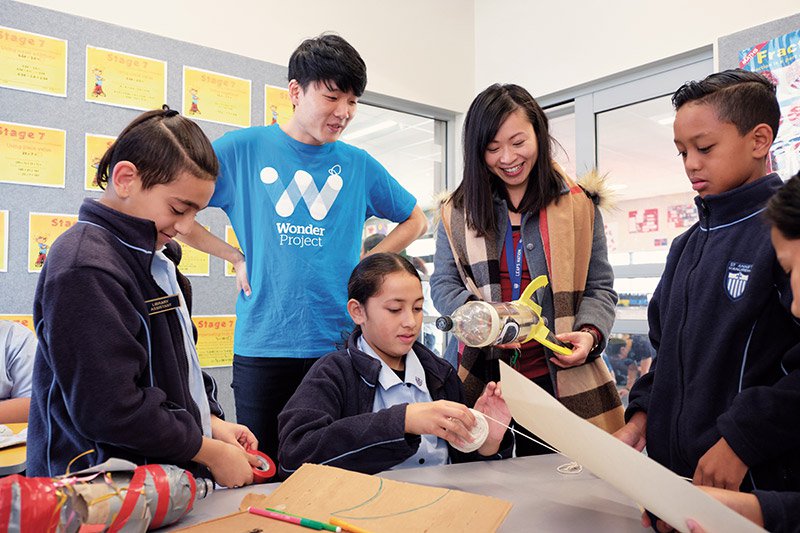 Students and ambassadors building rockets. Photo credit: Wonder Project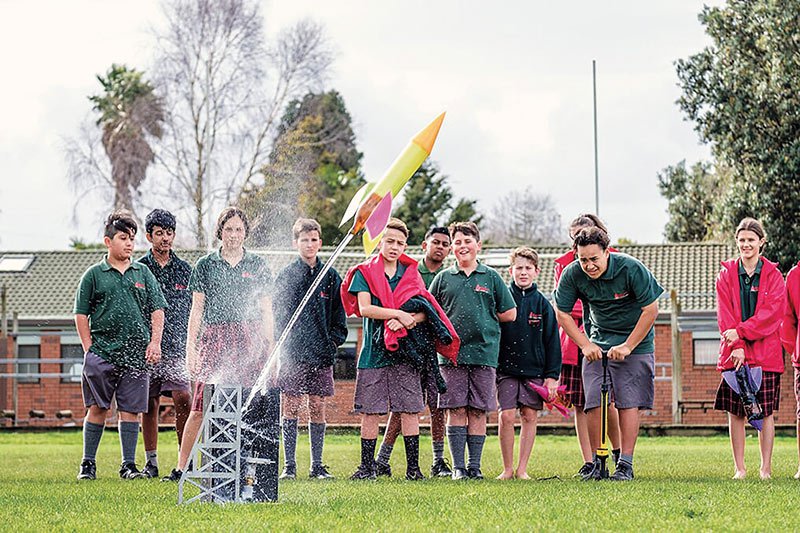 "We want them to be able to make their own decisions, to be able to pull information apart, make a hypothesis and test it, rather than be swayed by what everyone else is saying."
The projects in the programme are based on real-world problems, so they learn to use information in practical ways.
"The biggest thing for us is making sure it's fun. The kids are learning science and maths, but they don't always know it."
Aotearoa needs an estimated 1,500 new engineers each year to keep up with where the economy is heading, but the combination of insufficient graduate engineers and career attrition means there aren't enough qualified engineers entering and staying in the workforce to keep up with this demand. The Wonder Project is one step towards countering that.
 "While kids aren't choosing a career when they're in year 6, we hope this can help them keep their options open and keep taking maths and sciences in secondary school," Shelley says.
"We had one engineer who went into a classroom, and on day one he asked the kids how many of them wanted to be an engineer when they grew up. The answer was one. When he asked them again at the end of the programme, the answer was 12. He was like 'job done'."
Know someone who might enjoy this?