With international flights off the menu for the foreseeable future, lots of us are missing one of the best things about travel: the food. But all is not lost. Some of the country's most interesting eateries are offering a chance to explore far-flung destinations through their cuisine.
"100% Syrian"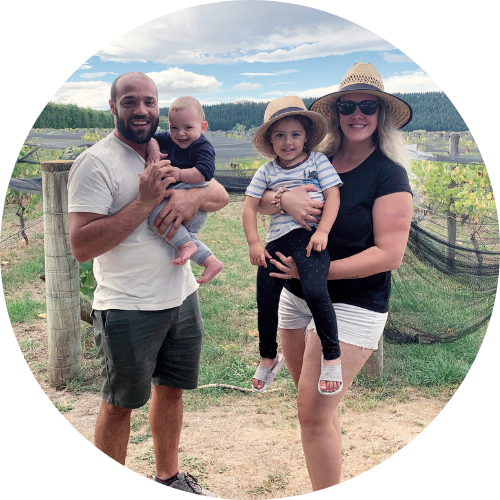 A family-run restaurant that started with $800 and two tables is introducing the capital's diners to Syrian cuisine.
Hasan Alwarhani, who hails from Syria, and his wife Flora Quintana, a pastry chef originally from Argentina, opened the first iteration of Damascus in 2017. Encouraged by feedback on their home cooking from friends and family, they opened a stall named after the Syrian capital, selling "Middle Eastern pizzas" at Harbourside Market in Wellington.
"It's crazy to look back on it now. We started doing markets all around Wellington, things started getting busier and we needed to find a commercial kitchen. We were doing prep at the Vogelmorn Bowling Club, and in 2019, they offered us a chance to open a café there," says Hasan.
"The daytime café didn't work so well because of the location, which is outside of the city, and we had to shut down when COVID hit. It's really thanks to COVID that we changed everything: our hours, our menu and our focus. We reopened as a restaurant in the Vogelmorn Bowling Club with a dine-in and takeaway menu, and we're so proud of where we're at now."
Hasan says that Middle Eastern food is underrated in New Zealand and that there is "zero awareness" of Syrian cuisine here.
"When people think of Syria, they often think of war, so it was hard at first because people have a negative idea of the country," he says.
"I feel a massive responsibility to change people's views through food. Our menu is 100% Syrian, and we're true to our roots and the food I ate back home. We really want the restaurant to be a place where people feel at home."
Hasan says Syrian food is all about big flavours. "We use a lot of spices, but we focus on aromatic rather than spicy ones."
The menu features plenty of zingy dips and salads, wraps with marinated meats or falafel and the original Middle Eastern-style pizza called manakesh. The dishes include plenty of spices, fresh herbs and pickles to pack in even more flavour, and there are lots of vegetarian, vegan and gluten-free options.
Hasan can't choose just one favourite dish from the menu, so he recommends the sharing platter, which has both a meat and a vegan option "so you get to try a bit of everything and decide which part is your favourite".
Damascus operates out of the cosy Vogelmorn Bowling Club three nights a week, but due to its popularity, Hasan and Flora are now hunting for a more permanent home to let the restaurant expand its opening days and hours.
Afghan Restaurant

316 Lincoln Road, Addington, Christchurch

Afghan Restaurant always has a queue outside, with its lack of consistent opening hours and written menu not providing any barrier to popularity. If you're happy to take your chances at this Addington cult favourite, you'll be rewarded with generous piles of smoky chicken and lamb kofta skewers heaped onto a bed of spiced rice with a bowl of rich coconut chicken curry and a big salad dressed with chilli and yoghurt. Every diner gets the same thing, so it's certainly not a spot for vegetarians or anyone with dietary requirements, and everyone pays the same price – it's just $20 for this absolute feast.

Madame George

490 Karangahape Road, Auckland

While Madame George is best known as a quirky bar, its modern Peruvian menu is a bit of a secret. The menu features an array of small and large sharing plates that highlight Peruvian culinary staples like potato, quinoa and legumes, keeping everything modern and polished. Peru is the home of ceviche, so naturally it features on the menu alongside plenty of other local kaimoana. A pisco sour – a cocktail made with the grape brandy named for the southern Peruvian city – is the perfect foil.

Topor Bistro

3 Beach Road, Plimmerton, Porirua

Topor Bistro is New Zealand's only Polish restaurant, set in the seaside suburb of Plimmerton outside of Wellington. You know this place is the real deal when you see that every dish on the menu has a suggested vodka match, with many of the vodkas infused in house, and that the only side dish listed is sauerkraut. Polish cuisine might be unfamiliar to many, but expect plenty of potatoes, cabbage, mushrooms, and meat – especially duck, pork and cured meats. The bigos is a must-have here – this 'hunter's stew' features sauerkraut, cabbage and various kinds of meat.
Know someone who might enjoy this?