Writing novels and treating patients require very different skillsets but Auckland author and GP Himali McInnes manages to tuck them into the same bed.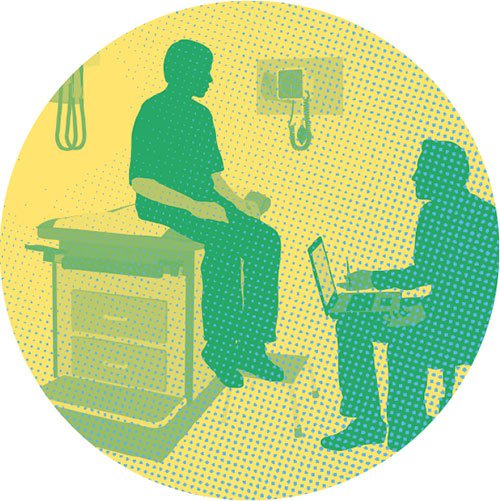 Things don't always go to plan when you're a GP.
There are the ailments that are hard to identify and even harder to treat, the patients who refuse to follow advice and the outcomes that are less than ideal.
But of the many patients a GP will see in their lifetime, some remain burned into their memories for years.
It's the phenomenon that Auckland GP and writer Himali McInnes explores in her first book, The Unexpected Patient (HarperCollins Publishers).
The book, which was published in September 2021, features 14 stories of medics and their encounters with the patients they've never forgotten.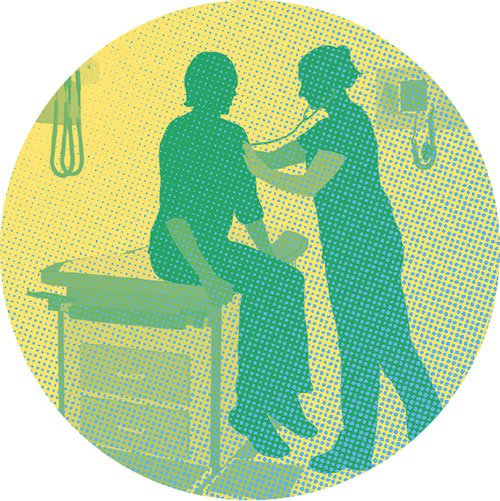 "The stories delve into each patient's case and what made them so memorable", says Himali.
That includes interviews with the patients themselves, where possible.
"Some had died, but the ones I did interview were able to share how the medic impacted their life."
Himali has always loved writing, but it had been pushed out of her life by a busy patient roster at Māngere Health Centre for 10 years and for the last three at both Three Kings Accident & Medical Clinic and their prison system.
An unconventional path
While most authors follow a well-trodden path to success – English degrees, writing courses, sometimes journalism – Himali took a different route.
In 2020, as COVID-19 began spreading, Steve Braunias, well-known New Zealand writer and book editor of online publication Newsroom, asked Himali if she'd like to write an article about her experiences of being a GP in the time of the pandemic. 
She did and that caught the eye of someone at HarperCollins Publishers.
"They contacted me and asked if I'd like to write a book, which I've always wanted to do," says the 47-year-old. 
Ideas were batted around and discarded until Himali and her publisher finally settled upon the concept that turned into The Unexpected Patient.
"The idea was very open-ended, but the basis was to ask a group of medics about their most unforgettable patient and why they were so memorable and then to track down the patient to ask them for their side of the story. Through that, certain themes began to emerge."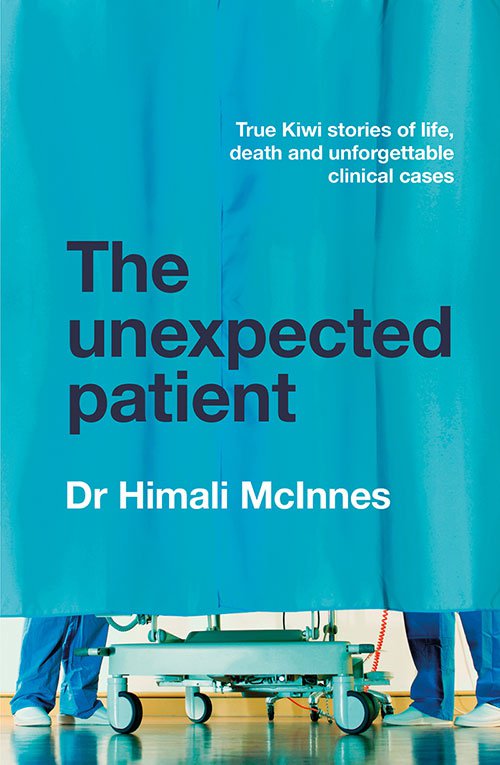 That includes stories about sudden events, the physical and emotional baggage that each of us carry and the effect that age and the passing of time can have on us.
Himali spent six months finding the medics and their patients. The book includes a psychiatrist and a patient with supernatural connections, a retiring GP who spoke of a 40-year-old case with an obstetric patient and a nurse whose patient's painful past triggered issues in her own life.
Readers may recognise some of the contributors. There's a piece from Jenny McGee, the Kiwi intensive care nurse who made headlines around the world when she treated British Prime Minister Boris Johnson after he was hospitalised with COVID-19.
There's also a contribution from Lesina Nakhid-Schuster, the surgeon who appeared on our TV screens as New Zealand's first Bachelorette.
Juggling practice and writing
Himali's own story focuses on the generational trauma and injustice she encountered in her South Auckland practice, of the "huge differences in the educational, economic and health-related choices available to some children".
It's also her journey to understanding the impact of colonisation on Aotearoa and how that affects her predominantly Māori and Pasifika patients.
"Back in 2016, as the housing crisis deepened, a lot of my patients resorted to sleeping in their cars," she writes in the book. "I started seeing many patients with rattly chests and labouring breathing, the physical repercussions of economic deprivation. Around that time, a friend gave me a book to read by Patrick Snedden, Pākehā and the Treaty: Why it's our Treaty too."
"It raised the question of how do you stay healthy when you lose your livelihood and your land?"
Dr Himali McInnes
"I started to see the chain of events that helped explain some of my patients' illnesses."
It took around seven months for Himali to complete the interviews and write 950,000 words, which she fitted around the 3.5 days a week she spends at Three Kings Accident & Medical Clinic and at an Auckland prison.
"It was a bit of a juggle to write the book and be a GP, but three years ago, I went part-time to devote more time to writing, so that made the process a bit easier."
Dr Himali McInnes
Now that her book is out in the world and has been featured everywhere from the New Zealand Herald to Radio New Zealand, has she moved on to her next writing project?
"I'm halfway through a book of short stories, but we've been renovating our house this year and I'm project managing that, so I haven't had much spare time to devote to writing."
Entering the literacy world
Himali was born in Sri Lanka, the oldest of two children of an accountant father and doctor mother.
When she was a year old, the family moved to Malaysia with her parents' jobs. Eight years later, they were on the move again, this time to Papua New Guinea.
When Himali was 15, the family settled in Auckland. A life-long live of animals prompted a desire to become a vet, but the thought of having to euthanise animals unsettled her.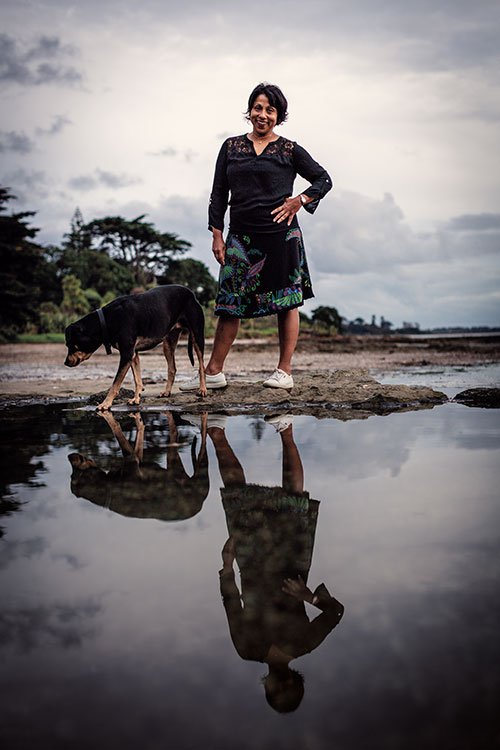 "So I decided to focus on medicine and have pets on the side," says Himali, who's now the owner of Zoe, an eight-year-old huntaway from the SPCA, a cat and three chickens.
After graduating from Auckland University, Himali spent the next few years doing various rotations at a number of hospitals, including a year as a paediatric registrar at Palmerston North Hospital. 
In 2002, she moved to the UK where her husband was completing a master's degree in development management. Himali worked in the NHS as a paediatric registrar, criss-crossing England, Scotland and Wales to see patients.
Two years later, when her husband Ian landed a role with an NGO in Sri Lanka, the couple moved to Himali's birthplace.
She got a job with the World Health Organisation in Colombo, doing public health interventions in refugee camps. They've been back in Auckland since 2009.
Himali's toe-dip into the literacy world started shortly after, when her articles, essays and poetry began to be picked up by the literary magazines. Last year, she was short-listed for the National Flash Fiction Day prize, and in September 2020, she was Verb Wellington's inaugural writer in residence.
"I spent two weeks at Katherine Mansfield House writing. It was a privilege to be able to dedicate that solid amount of time to writing. I really begun to get into the flow."
Dr Himali McInnes
But ask Himali if she'd ever give up her medical career to become a full-time writer and she'll laugh.
"For one thing, I need to keep working to pay for the renovations to our house! It started with adding a toilet and a garage and has turned into a major overhaul. But I actually like the balance between my two lives. I love being a GP so always want to do that, and writing is my passion. The creative energy required to write takes a lot out of me in a different way from the energy of being a GP, so it's a good mix to have both."
Insight into incarceration
One aspect of her day job that Himali particularly enjoys is working in the prison system.
"When I was working in Māngere, I was approached to work in a prison. I was a bit nervous at first but gave it a go and I love it."
Dr Himali McInnes
"It's really opened my eyes to the way we conceptualise prisoners and the reasons why people end up in prison. They can have mental health issues, head injuries or learning disabilities, which is why they may have made the decisions they have. And yes, they may have been bad decisions, but often their choices were very limited."
Himali credits her mother, also a doctor, with her strong justice bent, which she admits was further refined during the decade she worked at Māngere Health Centre.
"It gave me a valuable insight into how tough life can be for some New Zealanders, particularly the physical and mental effects of intergenerational damage and trauma that can be passed on. It's taught me to be kind to my patients and not jump to conclusions, as so much inside us is unseen."
Know someone who might enjoy this?